Kindle means variety — there's always so many ebooks to choose from. And Amazon surprised me last week with with some of their choices for their "Big Deal" discount event. They'd discounted over 400 Kindle ebooks — and at least a few of their selections were sexy literary classics!
To see the full selection, point your browser to
TheBigEbookDeal
The G-String Murders by Gypsy Rose Lee ($3.99)
Yes, the famous stripper wrote a murder mystery "set in the underworld of burlesque theatre," according to this Kindle ebook's description at Amazon. "The G-String Murders was penned in 1941 by the legendary queen of the stripteasers — the witty and wisecracking Gypsy Rose Lee…" The story's full of twists (and a double murder), as Lolita LaVerne teams up with comic Biff Brannigan and Siggy the g-string salesman, squaring off against corrupt policemen…. It's part of a special series called Femmes Fatales that's resurrecting pulp fiction and hard-boiled noir detective tales for a new audience of ebook readers in the 21st century. And through May 11th they're also discounting another Gypsy Rose Lee murder mystery — called Mother Finds a Body!"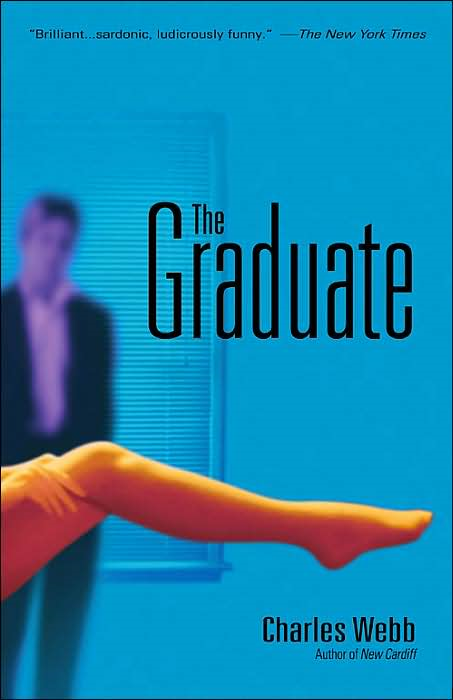 The Graduate by Charles Webb ($1.99)
At the age of 24, Charles Web published the ground-breaking novel which became the legendary movie chronicling a young man's affair with the predatory Mrs. Robinson. But both the movie and the book were really about alienation, which comes through even more clearly in Webb's original novel. While it's laugh-out-loud funny, there's also real angst, according to one review, as Webb "savors that that tension throughout the book, devoting large sections to rambling dialogue showing Ben's failure to connect." It's fun to see scenes where this dialogue was faithfully recreated in the 1967 movie — as well as the tantalizing additional scenes that were left out!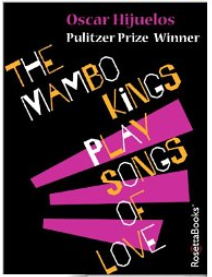 The Mambo Kings Play Songs of Love by Oscar Hijuelos ($1.99)
This novel won the 1990 Pulitzer Prize for fiction — and when it appeared on the Kindle this November, it included a new afterword by the author! It became a movie and an international best-seller, but I was even more impresed with how one editor at Wikipedia condensed the entire novel into a few juicy sentences. "It tells the story of Cesar Castillo, an aged musician who once had a small amount of fame when he and his brother appeared on an episode of I Love Lucy in the 1950s. The book chronicles Cesar's last hours as he sits in a seedy hotel room, drinking and listening to recordings made by his band, the Mambo Kings…" And if you're an Amazon Prime member, you can even read this book for free!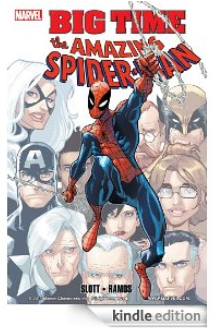 Spider-Man: Big Time by Dan Slott and Humberto Ramos ($1.99)
If you like stories about superheroes, this is one of the best collections of Spider-Man stories I've ever read. But there's some fun looks at Spider-Man's personal life — including his relationship with a sexy jewel thief named The Black Cat! This graphic novel opens with a great story starring all of the Avengers, but it's not just Dr. Octopus who's attacking New York — soon there's a high-powered new version of the Hobgoblin! (And there's also a new character who I'd swear was modeled after Steve Jobs.) All 144 pages of this collection appear in full-color on your Kindle Fire tablet — but for many of the new e-ink Kindles, it's also available in black and white!
To see all 427 of Amazon's discounted Kindle ebooks, point your browser to
TheBigEbookDeal