"Let's watch more TV," I said to my girlfriend. Amazon's original programs are fascinating, and even when they're not great, they're original — never-seen-before attempts at not just new stories but entirely new genres. Now Amazon's just released a brand new crop of 13 more original shows, promising more creativity and surprises.
For a shortcut to Amazon's free TV shows, go to
tinyurl.com/2015Pilots

You can watch them all online for free (or on any Kindle Fire tablet, or with the Amazon Instant Video app on Fire TV, Roku, Xbox, PlayStation, or Wii). My girlfriend even watches Amazon's videos using her iPhone, streaming the high-definition video from Amazon's app to the AppleTV box for her widescreen TV! And it's our votes which will help choose which shows get picked up for an entire season of episodes. Amazon's Vice President for their original programming said that not only are they excited about the shows themselves, but "We're looking forward to getting customer's reactions."
"Our first pilot season of 2015 brings some of the greatest storytellers in the business…with works of novelty and passion."
There's even a pilot from The New Yorker — the prestigious literary magazine — with a sketch, a cartoon, a short documentary feature and an interview with an artist. "Seven new comedy, drama and docuseries pilots are available," read Amazon's press release — but there's also six more new shows — pilots for children — for a total of 13.
And it looks like the "pipeline" for Amazon's shows has come up with some interesting ideas…
The Man in the High Castle is based on a stunning "alternate history" novel by Philip K. Dick, set in a world in which the Nazi's won World War II. Twenty years later, Germany and Japan have divided much of the planet, but spies and imposters fill a story with a message about both history and authenticity. And the executive producer for this show is science fiction legend Ridley Scott!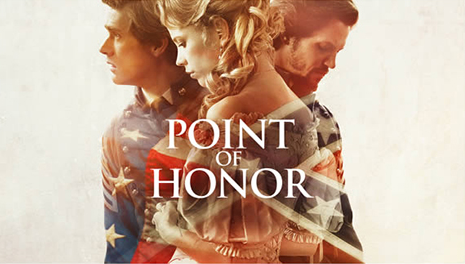 Point of Honor is actually set during the Civil War, and shot entirely on location at a former Virginia plantation. It's an ambitious, hour-long drama about a family torn by the desire to protect their lifestyle while fighting for their beliefs, directed by the writer and producer of Braveheart
Cocked stars Jason Lee from "My Name is Earl" as a bachelor, playboy and gun aficionado who's not happy when his brother — a former "corporate lapdog" — returns to Colorado to help run the family's gun factory.
Salem Rogers includes Rachel Dratch from Saturday Night Live as the former personal assistant to a bratty supermodel who suddenly returns from rehab — after 10 years — intent on reclaiming her fame (and her reckless and wild life). It was nice to see Jane Kaczmarek — the mother on Malcolm in the Middle — as a hard-nosed agent!
Mad Dogs is a dark story about old friends reuniting at the villa of a wealthy acquaintance, when "their trip becomes a labyrinthine nightmare of lies, deception and murder" (according to the show's description at Amazon). They've packed a lot of twists into their hour-long pilot, and it's based on a British show which is already extremely popular.
Down Dog is the story of a yoga studio catering to "the trophy wives, hot moms and aspiring celebrities of Santa Monica and Venice Beach," according to the show's description at Amazon. But there's drama and comedy when the good-looking yoga instructor triggers chaos by breaking up with his current girlfriend…
Remember, for a shortcut to all of Amazon's free TV shows, go to
tinyurl.com/2015Pilots