It took Forbes magazine to track down the head of Amazon's in-house video production department. But he revealed Amazon's part in a new trend
that's silently changing the world.
Right now Amazon is producing more new TV shows each year than any of the TV networks. And they even have the money to fund the same high-quality productions that you'd find on a premium cable channel like HBO!
To check out Amazon's free original TV programs, point your browser to
tinyurl.com/AmazonOriginals
It's just not the same as network TV — and that's one of the big new changes, according to the producer of Amazon's Betas. "Creatively, Amazon has left us to our own devices…" he told one technology blog. "[T]hey really wanted us to go for it, which is refreshing without any network shackles of storytelling!" It's good for viewers — but the mind-boggling thing is this was all willed into existence by one giant shopping web site!
At the center of it all is a poor Amazon executive who has to keep shuttling from Seattle to Los Angeles. ("If you want to make TV shows, you gotta go to L.A.," he tells Forbes, joking that Alaska Airlines has given him their "MVP Gold" status.) Their profile is fascinating, noting that he started out at Amazon more than 9 years ago, when their video section was just a place for buying DVDs. "I can remember one studio head saying to me… 'No one is ever going to download one of our movies.'
"And you know, eight months later you have a deal with them…"
It's a new world now, with streaming video allowing people to watch anything, any time — and sometimes even any where! Price points out that now viewers have a lot of new choices, and "You need to really want to watch the show in modern TV… It's not about changing the channel anywhere, or just seeing what's on…" I like how he identifies the specific difference in strategy that these new shows will have to adopt. "A while ago you had to focus more on breadth of enthusiasm rather than depth of enthusiasm…There are shows in the past that were not as distinctive but universally palatable that would have been valuable, but today for us would not be valuable."
It's a good time for creative television now — original, high-quality shows with "distinctive" new ideas. And Amazon is even "crowdsourcing" some of that creativity – letting us viewers choose which shows we want to see more of. It makes sense, argues Amazon's studio director, because that's how you find the loyal viewers who will care enough about a show to track it down online — and keep coming back to it. And over time, Price predicts, while there may be some show taht fail, a lot of them " will find something that is distinctive and worth saying and has an audience."
But will they be profitable? Will advertisers support the shows, or will viewers simply pay to watch them? The whole concept is still in flux, but Amazon Studios' director seems to think that there's an answer that will fall into place. "I have no doubt we'll see a lot of experimentation and artistic success. And then we'll figure out the business side…"
Of course, there's a third business model. Amazon's TV shows are free if you sign up for their "Prime" delivery service. It offers a year of free two-day shipping (and a discount on one-day shipping), but Amazon's sweetening the deal with a free ebook once a month — plus a library of free video titles. Their original shows are just one more way to lure customers into the one-year program — although Amazon's studio director see it as creating a stronger bond. "[I]'s all about providing value for customers, making the service feel unique and distinctive, and having a relationship with customers where they are coming back … Part of the purpose of original content is to get people to really engage with the service.
You can check out Amazon's TV shows even if your not a Prime subscriber, since the first few episodes of each series are always available online. You can even watch them on the web, if you're not already watching them on your Kindle Fire tablet. The way that we watch TV is already changing, and we're headed into an entirely new world. But in the end, it's a change that we all have a role in. Because the people who get to decide whether Amazon's video programs are really worth watching are…us!
For a shortcut to Amazon's original programs, point your browser to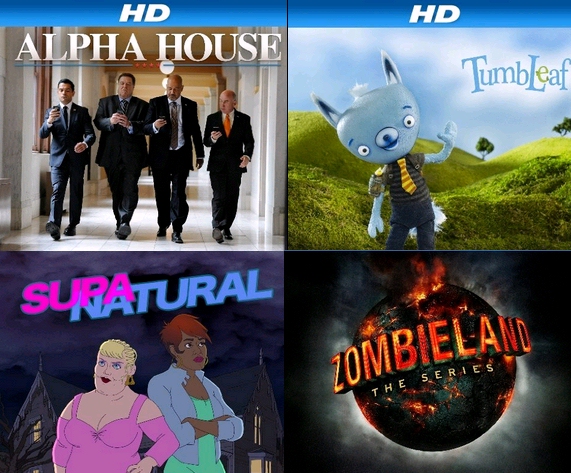 Amazon's been offering videos through an online store that you can watch on your Kindle Fire (or in a web browser, or even in an Amazon video app). The service launched in 2006, but Friday Amazon took a big step in a new direction. They released 14 new TV shows which were all created
by
Amazon. The first episode of each show is available for free in the Kindle Fire's video store, and online at a special "Amazon Originals" web site.
To watch the shows online, just point your browser to tinyurl.com/WatchAmazonTV
"You decide which shows become a series," Amazon promises on their web site. There's eight different original comedies, including one from the Onion News Network, plus an intriguing new comedy called Browsers, created by David Javerbaum, a writer for Jon Stewart's The Daily Show. His show follows a group of interns at a daily news show called The Daily Gush, and it's directed by Don Scardino, who also directs another popular TV show that's set behind-the-scenes at a comedy show: 30 Rock. I'm impressed that for the show, Amazon got an actress I've actually heard of — Bebe Neuwirth — and there's even some hip songs scattered throughout Browsers episodes. (The show's trailer describes it as a "streaming workplace comedy musical".)
There's also a new comedy starring John Goodman, and written by Garry Trudeau, the creator of the Doonesbury comic strip. It's called Alpha House, and it follows four Senators in Washington D.C. who all end up living together in the same rented house. A disclaimer in front of the first episode warns that it contains graphic language and content that "may not be suitable for all audiences," but the photography is really good, and I laughed out loud at John Goodman's first scene, where he wakes up one of his roommates — played by Bill Murray — to ask him about the police cars and television news cameras that are swarming outside their apartment. "Hey Vern, were you by any chance scheduled to turn yourself in to the Department of Justice today?" Goodman asks — and the oversleeping Senator responds with a long stream of anguished profanities…
Amazon's original TV shows also include two new animated series. Dark Minions is written by two actors from The Big Bang Theory — Kevin Sussman and John Ross Bowie — and it's a comedy about two slackers who just happen to work on an intergalactic warship. (The show's tagline is "Rules, reports, a Galactic Overlord… just another day at the office.") And another animated original show, Supanatural, follows "two outspoken divas who are humanity's last line of defense against the supernatural, when they're not working at the mall," according to the description at Amazon. It's co-produced by Kristen Schaal, a commentator on The Daily Show, and a quote from the first episode suggests it'll be delivering some very unusual plots. ("It's not just an ancient doomsday artifact, it's a hater. That's why it must be destroyed.")
There's a total of eight new comedies, including one set in Silicon Valley, where according to ambitious app developer, "investors are buying napkin sketches from high school drop-outs". (I like that Amazon's creating a show that's about new technologies — or at least, the people who try to build them, with a preview that teased "These aren't alpha males, they're betas…the little guy with the big idea.") There's also another comedy which follows the lives of teachers with a very clever title — Those That Can't. And believe it or not, the last comedy is a continuation of the 2009 movie Zombieland, which Wikipedia points out was America's top-grossing zombie comedy of all-time.
Amazon's also released six different TV shows for children, most of which seem to be animated. But some of them seem use Pixar-style computer animation, like Tumbleleaf which follows the magical life of a character named Fig the Fox. I have to admit I was intrigued by Positively Ozitively, which promises new adventures in the land of Oz. And One of the creators of Blue's Clues has created a new show for Amazon called Creative Galaxy, while another Blues Clues creator teamed up with a producer from Arthur and Curious George to create an educational mystery show called Sara Solves It!
There's just two live-action childrens show — Annebots — about a little girl who builds three robots in the back of her dad's junk yard, in a show that "aims to introduce kids to science and technology in a fun, new way." But there's also a new one from the Jim Henson Company which is using muppet-like puppets, called Teeny Tiny Dogs. It's preview is fascinating, promising that the show taps into the latest research on educating children, to create a show teaching the essential life skills for happiness. Its first episode is 12 minutes long, offering a "work in progress" glimpse at what the series would look like, mixing footage of puppets with some animated place-holders for what the final scenes will eventually look like. But it's really fun to see their puppet doing all the things that real dogs do, and the overall tone of the show looks very sweet.
So now besides Kindle ebooks, Amazon's also offering you TV shows!
Since September, Amazon's been touting the ability to watch videos on their Kindle Fire tablets. And a smaller free video library is also available, both on Kindle Fires and online, for subscribers to Amazon's Prime shipping service, which offers faster deliveries from Amazon for just $79 a year. But on Thursday, a business magazine
looked closely at Amazon's claim
that that free library included "more than 17,000 movies and TV shows." Their conclusion?
"Only 1,745 movies are available to stream on the company's Prime service, and just roughly 150 TV series."
According to Fast Company magazine, Amazon's counting each episode of a TV show as a separate show. "For example, Amazon does not count 24 as one TV show; rather, it counts every episode in all eight seasons toward its [free] library of 17,000 movies and television shows. So, according to Amazon's logic, Kiefer Sutherland stars in 192 TV shows. Amazon counts The X-Files more than 200 times and Grey's Anatomy 170 times." And because so many different TV shows were based on the "Power Ranger" characters, "Power Rangers-related episodes are counted as about 715 shows in its streaming library — that is, 4.2% of the 17,000 movies and television shows Amazon says it offers. "
It's important to recognize that this is the smaller free library of videos available to Amazon Prime subscribers. There's seven times as many videos available for Kindle Fire owners in Amazon's "Instant Video" library – more than 120,000 – and all those videos can also be watched online. (And starting 10 days ago, all those videos are now even available on a PlayStation 3). Of course, you have to wonder if Amazon is also counting individual episodes in those figures as well. Even Netflix, which offers a competing service that "streams" videos for online viewing, has just 9,500 movies available online, and 3,500 different TV series, according to an industry watcher who was interviewed by Fast Company.
But its apparently been very difficult for Amazon to find free content for its Prime video library. As recently as one month ago, that library offered just 5,000 "titles", according to one press release. Amazon was only able to add 12,000 more titles after a deal with Discovery Communications to add programs from their cable channels — like Animal Planet and the Discovery Channel — and even then, only episodes from past seasons. These non-fiction shows apparently now account for 70% of Amazon's video library – shows like Say Yes to the Dress and Animal Planet's Whale Wars.
It feels a little sneaky that Amazon counted individual episodes as "titles" – so I decided to see just what was available, by scanning Amazon's list of their most popular Prime videos. After Downton Abbey, its most-popular TV shows were SpongeBob SquarePants and Dora the Explorer, and there were three more children's shows in the top 12. Four more of the top shows looked like non-fiction shows from Amazon's "Discovery" deal – Mythbusters Deadliest Catch, Man vs. Wild, and Toddlers and Tiaras. But their "Editor's Pick" section had some intriguing additional shows, including British classics like Dr. Who and Monty Python's Flying Circus, plus classic American shows like NYPD Blue, Cheers, Better Off Ted, and the original Hawaii Five-O. But the #2 slot on most-popular free movie list went to Zombie Strippers, a horror comedy starring former porn actress Jenna Jameson and "Nightmare on Elm Street" star Robert Englund.
I guess the lesson here is simple. If you're signing up for Amazon Prime just to use its video service, do some research first to make sure it's got the videos you want to see!