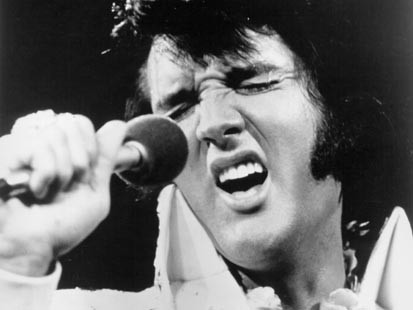 I did a funny experiment in mid-January. On Elvis Presley's birthday, I'd searched for his name in the Kindle Store — and found nearly 140 ebooks about him! Though he'd died in 1977 at the age of 42, even 35 years later, people are still talking about "the king of rock and roll!" And now self-publishing's making it possible to share even more fond memories – by anyone with their own story to tell.
I've always been fascinated by the life of Elvis Presley, so here's my list of what look like some of the most interesting Elvis-related e-books that have turned up in Amazon's Kindle Store.
It seems like everyone who ever knew Elvis has published a book, but this one was written by one of his personal friends. "George was with Elvis from the beginning," Dick Clark notes in a blurb for the book, adding the book's author "personally knows the story." Elvis and George Klein met when they were both in the same 8th grade class, and both men later went on to have long careers in the music industry — Klein as a Memphis radio host. (The book's subtitle is "Radio Days, Rock 'n' Roll Nights, and My Lifelong Friendship with Elvis Presley.") Yes, Elvis also served as the best man at Klein's wedding, but more importantly, he was an authentic fixture in the Memphis music scene. When Booklist reviewed this book, they ultimately concluded that "Klein's paean is awfully sincere but, in its folksy naivete, oddly fetching. Maybe it's the bio the King would have most wanted."
This 248-page novel is actually available for free in the Kindle Store, and it's described on Amazon as "quirky Southern fiction with a literary edge, surprising humor and an uplifting spirit." One of the characters is a fanactical Elvis fan, and I have to wonder if the author was inspired by the real-life story of Dolores Hart, the Hollywood starlet who at the age of 22 had already done two movies with Elvis (and also starred as a spunky teenager in Where the Boys Are). In 1963, "after completing a promotional tour for Come Fly with Me…she had her limousine drop her off at The Abbey of Regina Laudis. And she became a nun." (And 48 years later, she still is!)
So in this novel, a girl named Olivia is born in 1956 "to a nun in an old auto parts store turned convent in rural Mississippi…" — and that's just the beginning of this strange American phantasmagoria. Olivia is ultimately raised by the nun's sister — the Elvis fan — who's "a renegade Southern belle, bent on self-indulgence and desperate to safeguard her multitude of sins…" According to the book's description on Amazon, Olivia's life story "takes the reader on a flower strewn tour of misguided love and maternal betrayal which culminates at Elvis' funeral, where they finally discover the truth of their parentage and unravel the generations of secrets that shadowed their lives."

The King and Dr. Nick: What Really Happened to Elvis and Me
Elvis's death was ultimately ruled a heart attack. (When the local coroner was teased about the official cause of death, he'd reply "You can say what you want, but I still think that Elvis is dead.") Some angry fans have raised questions about the role of Dr. George Nichopoulos, the personal physician to the high-living rock star, who also his source for some prescription drugs. (There's a rumor that he was even the inspiration for the quack physician on The Simpson's.) For the other side of the story, you can read Dr. Nick's own biography, and at least one reviewer on Amazon writes "I was really quite stunned by many of the revelations in this book." It's an odd perspective on the death of a rock star, offering real-world stories about the medical and legal debates that followed. "Was an innocent man crucified by the press in order to get the scoop…" the reviewer asks, "or was he really guilty as charged?"

Careless Love: The Unmaking of Elvis Presley
I read this biography when it first came out in 1998, and I loved its personal glimpses into the highs and lows of Elvis's rocky life. (Each chapter begins with a fascinating and revealing photograph, offering a kind of visual counter-commentary.) After Elvis's strange tour of duty in the army in Germany, he resumed his singing career (and starred in dozens of cheap movies), and this book follows him all the way to his 1977 drug overdose. Biographer Peter Guralnick spent several years interviewing nearly every significant person in Elvis's life, and some of the stories are really touching. (Like the way Elvis sang Christmas carols with his fellow soldiers while he was stationed in Germany, and even donated money to a local orphanage).
Now it's finally available as a Kindle ebook – and I recommend it!