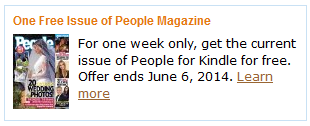 There's a fun new offer from Amazon — a free issue of People magazine for your Kindle Fire tablet! I always wanted to try magazines on my Kindle Fire, but was never sure how they'd look. This is a great way to read a whole issue — all the pictures, and all the text — and enjoy a taste of the famous magazine's celebrity and human-interest stories.
For a shortcut to the offer, point your web browser to
tinyurl.com/FreePeopleMagazine
This offer expires on Friday, June 6th, so it's a classic "limited time" promotion. The magazine is normally published every week, so the headlines are surprisingly fresh — and of course, a little dishy. ("Sofia Vergara is back on the market, and wedding planning heats up for George Clooney and Amal Alamuddin…") There's also a fun look at which celebrities received (honorary) degrees this spring while giving the commencement address at various colleges. And I have to admit that I really enjoyed their list of the top 10 TV shows of the summer. I've lost track of what's on TV these days — because I spend so much time reading my Kindle!
If you're on the fence, you can actually get four issues of the magazine for free. Amazon offers a 30-day free trial on the Kindle Fire edition of People magazine — and many other magazines, too. (Every magazine in the Kindle Store is always available for free for at least two weeks, to make it easier to try them out.) "You can cancel at any time during your free period, and you will not be charged," explains a customer service page, which also points out that some magazines only publish on a monthly schedule (and some are bi-weekly). But you can always go back and read past issues, because Amazon stores them all "in the cloud" — archived on Amazon's servers so you can always download them again.
I think magazines are an exciting but underused feature of the Kindle Fire tablets. Many have been discounted to less than $20 a year, including Men's Health and Cosmopolitan. For some other family- and health-oriented magazines — including Family Circle and Eating Well — there's an even cheaper price. If I'm reading this right, you can get a one-year subscription for just $5.
So if you've ever wanted to read magazines on your Kindle Fire tablet, now Amazon's making it really cheap. And in some cases, it's even free!
To get the free People magazine issue, point your web browser to
tinyurl.com/FreePeopleMagazine
I love magazines — and now Amazon's making it even easier to try reading them on your Kindle. For the rest of September, they'll deliver free issues of 61 different magazines straight to your Kindle! The color pictures look great on a Kindle Fire tablet, but Amazon will deliver most of these digital magazine issues to any Kindle device.
Browse the complete selection at tinyurl.com/FreeKindleMagazine
Amazon sent out an e-mail Thursday saying they were "excited" to be offering this special deal — and what's got me so excited is that these are magazines that I've actually heard of. They'll deliver free issues of Esquire, Forbes, Cosmopolitan, or PC Magazine — and even some big-name titles like Martha Stewart Living and O, the Oprah Magazine. With over five dozen magazines to choose from, it looks like there's something for everybody, whether it's Maxim or National Geographic.
Here's a complete list of all 61 of the magazines for which Amazon will deliver a free issue to your Kindle….
National Geographic
Cosmopolitan
Better Homes and Gardens
Fitness
Maxim
Reader's Digest
O, The Oprah Magazine
Seventeen
Marie Claire
HGTV Magazine
Elle
Family Circle
Food Network Magazine
Parents Magazine
Do It Yourself
Parents
Do It Yourself
Every Day with Rachael Ray
Everyday Food
EatingWell
Martha Stewart Living
Good Housekeeping
More
Taste of Home
PC Magazine
Forbes
ESPN Magazine
Healthy Cooking
Country Living
The Family Handyman
Ladies' Home Journal
Woman's Day
Smithsonian Magazine
Whole Living
Esquire
Popular Mechanics
Simple & Delicious
Harper's Bazaar
Car and Driver
Food & Wine
Taste of Home Holiday
Martha Stewart Weddings
Traditional Home
Birds and Blooms
Country Woman
Poets & Writers
Midwest Living
FamilyFun
Travel + Leisure
Redbook
Veranda
Inc.
Reminisce
Fast Company
Diabetic Living
Motor Trend
Town & Country
House Beautiful
Country
Hot Rod
Elle Decor
Farm & Ranch Living
Siempre Mujer

Remember, you can browse the complete selection at tinyurl.com/FreeKindleMagazine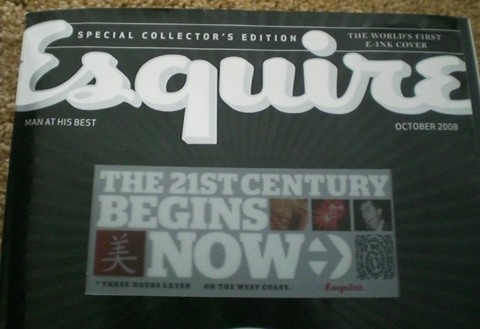 It's a legend in the magazine industry. In fact, it may be the most legendary magazine cover of all time. It was 2008, and
Esquire
magazine had wanted a special way to celebrate their 75th anniversary. So they commissioned a special "collector's edition" which included a small e-ink screen that was embedded right in the magazine's cover!
This was just 11 months after Amazon had released their very first Kindle, so there was something magical about seeing the same technology used for the cover of a magazine. Esquire touted it as an symbol of the future, demonstrating "a revolutionary technology that will change the way we all read paper magazines in the years ahead." If you look today, you can still find videos of it on YouTube. It flashed the words "The 21st century begins now," in bold, black letters, and it also included five color, thumbnail-sized photos.
It's four years later, and I can still see those five photos on my copy today. (I have a theory that Esquire painted them onto the displays, and just used the battery-powered e-ink to display the words and to darken or brighten the pictures.) Tonight I found the old issue in a box of old papers, the same copy I'd bought at my local bookstore back in 2008. A lot's changed since then — but it's still pretty impressive!
They'd spent more than a year planning that special cover. In fact, it was actually a full eleven years ago that the magazine first started thinking about e-ink. Two of their editors had visited the start-up company that created the technology, in Cambridge, Massachusetts, back in 2001. But at the time "the circuit boards, the power requirements — and the cost — just couldn't be made small enough to use in a magazine," Esquire's editors explained.
"Until last year…"
Even then, the logistics were incredible. The creators of e-ink had to create all the custom circuitry for the displays, designing something that was not only thin enough, but also flexible enough to bend like the rest of the magazine's cover. And when the big day finally, came, the magazine was actually shipped in refrigerated trucks — from China to America — because the power supply wouldn't drain as quickly if the magazine was stored at a cooler temperature! Even the magazine's printing presses had to be carefully modified so the shocks from their binding machines wouldn't damage the covers. In the end, each issue of the magazine travelled more than 7,000 miles. After the displays were assembled in China, they were flown across the Pacific ocean, where each one was then individually attached by hand, by a team of workers in Mexico.
"We think we've taken an important step into the future of magazine publishing," Esquire concluded in the introduction at the front of their special edition.
"Or at least that we did something that looks pretty cool."