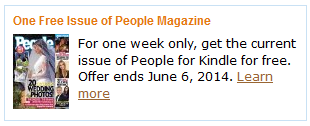 There's a fun new offer from Amazon — a free issue of People magazine for your Kindle Fire tablet! I always wanted to try magazines on my Kindle Fire, but was never sure how they'd look. This is a great way to read a whole issue — all the pictures, and all the text — and enjoy a taste of the famous magazine's celebrity and human-interest stories.
For a shortcut to the offer, point your web browser to
tinyurl.com/FreePeopleMagazine
This offer expires on Friday, June 6th, so it's a classic "limited time" promotion. The magazine is normally published every week, so the headlines are surprisingly fresh — and of course, a little dishy. ("Sofia Vergara is back on the market, and wedding planning heats up for George Clooney and Amal Alamuddin…") There's also a fun look at which celebrities received (honorary) degrees this spring while giving the commencement address at various colleges. And I have to admit that I really enjoyed their list of the top 10 TV shows of the summer. I've lost track of what's on TV these days — because I spend so much time reading my Kindle!
If you're on the fence, you can actually get four issues of the magazine for free. Amazon offers a 30-day free trial on the Kindle Fire edition of People magazine — and many other magazines, too. (Every magazine in the Kindle Store is always available for free for at least two weeks, to make it easier to try them out.) "You can cancel at any time during your free period, and you will not be charged," explains a customer service page, which also points out that some magazines only publish on a monthly schedule (and some are bi-weekly). But you can always go back and read past issues, because Amazon stores them all "in the cloud" — archived on Amazon's servers so you can always download them again.
I think magazines are an exciting but underused feature of the Kindle Fire tablets. Many have been discounted to less than $20 a year, including Men's Health and Cosmopolitan. For some other family- and health-oriented magazines — including Family Circle and Eating Well — there's an even cheaper price. If I'm reading this right, you can get a one-year subscription for just $5.
So if you've ever wanted to read magazines on your Kindle Fire tablet, now Amazon's making it really cheap. And in some cases, it's even free!
To get the free People magazine issue, point your web browser to
tinyurl.com/FreePeopleMagazine