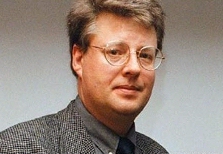 He's written Amazon's #1 best-selling ebook — and its #2 and #3 best-selling ebooks! In fact, he became one of the best-selling authors in the world — two years after his death — and he wrote the first ebook ever to sell one million copies. Yet apparently there's another strange twist to his story.
There's now two biographies about author Stieg Larsson — one very good, and one very bad. At least that's the fierce opinion of one Amazon reviewer who downloaded STIEG LARSSON BIOGRAPHY: The Man Behind Lisbeth Salander. "I am disappointed that Amazon would offer this as a 'book' selection," the reviewer wrote…
"I loved the Millennium series and wanted to know more about the wonderful author who penned them, so I was happy to see a biography offered. However, it is nothing more than what could be gleaned from the Internet in a short Google search. It consists of Kindle locations 1 – 94 which takes about three minutes to read. Certainly not worth the $3.99 charged for less than 6 pages of very generalized text."

He condensed his position in his review's title — "Caution: NOT a book" — and advises readers to "Save your money since there is more information in Wikipedia…"
But there's also more information in a new 294-page hardcover biography about the life of Stieg Larsson, which was just published a few weeks ago. As an expert on crime fiction, Barry Forshaw looks deeper into the author's whole career, according to Amazon's description, and he concludes that Larsson's life "would be remembered as truly extraordinary even had his trilogy never been published. Larrson was a workaholic: a political activist, photographer, graphic designer, a respected journalist, and the editor of numerous science fiction magazines.
"At night, to relax, he wrote crime novels…"
Larsson died at the age of 50, prompting Forshaw to title his biography "The Man Who Left Too Soon." (Larsson died a full six years before his book became the first ebook ever to sell more than one million copies.)
While it's ironic that after his death, Larsson drew so much attention from the publishing world, at least he'll always be remembered for achieving that historic milestone. But it's even more ironic that the first biography of his life isn't yet available in the ebook format!
In September a young man named Kurdo Baksi will also publish another biography of Larsson's life — titled "Stieg Larsson, My Friend." (Though apparently it's also available only in the hardcover format.) Still, it's nice to see that in the middle of the book-publishing feeding frenzy, the author himself is receiving some genuine appreciation from the people who knew and remembered him. And now his loyal fans are discovering that Stieg Larsson has also led them into some new unexpected experiences.
I checked out the sample chapter of the short ebook biography, and was startled by the low quality of the writing. ("Starting in the late 1970's, he combined his work as a graphic designer with holding lectures on right-wing extremism for the Scotland Yard.") The sample seems to end in mid-sentence, and it was written by somebody named "SpaceLoops." (Though it's currently ranked #7,707 on Amazon's list of paid ebooks — and #12 on Amazon's list of journalist biographies, behind the autobiography of Barbara Walters.) But ultimately, at least the skimpy book led one reader to a good experience with Amazon's customer service.
"Right after I posted the review above, I emailed Amazon customer service about my displeasure that this is offered as a legitimate Kindle selection and requested a refund which they promptly processed. Great service, Amazon!"