Every month Amazon picks a special selection of Kindle ebooks to sell for $3.99 or less. And this month has some fascinating books to expand your mind with both history and science fiction. But Amazon's discounted over 100 different Kindle ebooks to just $3.99 or less, so there's lots of bargains to choosse from.
For a shortcut to Amazon's discounts, point your browser to
tinyurl.com/399KindleEbooks
Here's some of the most interesting selections…
Moonshine: A Cultural History of America's Infamous Liquor by Jaime Joyce ($2.99)
It's a $25 history of moonshine – now discounted in Amazon's Kindle store to just $2.99! "Hooch. White lightning. White whiskey. Mountain dew…" begins the book's description at Amazon — promising "Nothing but clear, 100-proof American history." The underground infamy of backwoods booze is an all-American tradition that dates back several centuries. But this book dips into the facts and the folklore behind untaxed liquors and unlicensed stills, whether brewed up by mountain people or the "craft distilling" that's still being practiced today!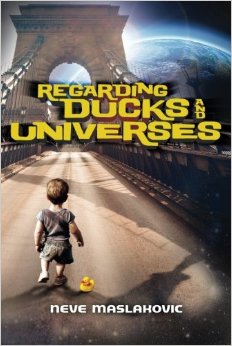 Regarding Ducks and Universes by Neve Maslakovic ($1.99)
It's an awesome title, and this science fiction book lives up to its promise. "On a foggy Monday in 1986, the universe suddenly, without warning, bifurcated," explains a description on Amazon. 35 years later, a food writer in "San Francisco of Universe A" discovers a photograph showing himself with his father, dated 10 days before the writer was actually born! Of course there's only one thing to do — head to "San Francisco B", flagrantly violating the rules of both worlds, and spying on his other self. But it turns out that someone knows he's changed universes, and the answer to all these provokative mysteries lies, impossibly, in a rubber duck…
The Heart of Everything That Is: The Untold Story of Red Cloud, An American Legend by Bob Drury ($1.99)
The Lakota warrior chief was nearly 90 years old when he died in Pine Ridge, South Dakota, having served as chief for 41 years from 1868 until 1909. But his fascinating life included an 1875 visit to Washington D.C., according to Wikipedia, where he attempted to persuade President grant "to honor existing treaties and stem the flow of miners into their lands." This 2013 biography was chosen as the best book of the year by Salon magazine, and it also became a New York TImes best-seller. It's the story of of the only American Indian in history to defeat the U.S. Army in a war, and one reviewer praised its beautiful handling of the historical material, calling it "epic…big, blazing history, writ large on the High Plains."
900 Miles: A Zombie Novel by S. Johnathan Davis ($0.99)
This book describes its hero's "harrowing 900 mile race against time to get to his wife just as the dead begin to rise." There's no rules left in society, only one man bringing rumors of an underground stronghold, and so a New York businessman teams up with an ex-army pilot in an intense and fast-paced thriller. "Zombies are not the only things to fear in a DEAD world…our fellow Man is!" wrote one reviewer on Amazon — one of 145 people who awarded the novel five stars. It enjoyed 8 months as one of Amazon's top 100 occult horror novels, and spent several weeks in the #1 spot on Amazon's list new ebooks. And after finishing this frightening story, one reader even posted a review on Amazon that was titled "It's settled – when the zombie apocalypse comes, I'm stealing a humvee…."
Remember, for a shortcut to Amazon's discounts, point your browser to
tinyurl.com/399KindleEbooks