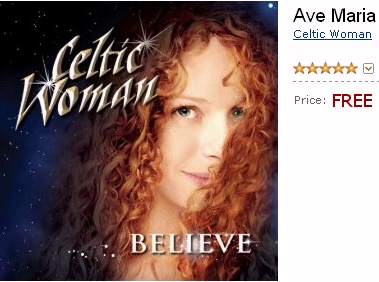 Amazon's giving away a free Christmas mp3 — and not just for today, but
every
day, for the next 25 days! Just keep pointing your computer's web browser to
tinyurl.com/25xmasMP3s
. (If your Kindle has an mp3 player, you can finally stock it with some holiday music!) And Amazon's also created a free "Santa" app for the Kindle Fire (and the iPad) which lets children create a wish list of Amazon items — for Santa Claus!
The free mp3s are on a special "25 Days of Free" web page that's designed like an advent calendar, where a new surprise gets revealed every day as a countdown to Christmas. Except here, the calendar's squares get replaced by album covers!

For December 1, Amazon's offering a lavish Christmas song by the Celtic Woman group — their rendition of the traditional song Ave Maria. It's a preview of their yet-to-be-released new album,
"Believe,"
which won't be available until January 24 of next year!
"Every day through Christmas, we're unveiling a new holiday song available to download free," Amazon announces on the web page, specifying that the free downloads are available "for a limited time." (So it's not clear if each one is free for just 24 hours, or if Amazon will also let you "catch up" on the free downloads from previous days.) Also available for free is the complete version of the song "Winter Night" by Little & Ashley, which Amazon used last year in their Christmas Kindle commercials (with the stop-motion animation). (Just point your browser to tinyurl.com/KindleChristmasSong .)

Snowflake in my pocket, let's take a sleigh ride on the ice.
Northern lights are glowing and reflecting in your eyes.

Underneath a starry sky.
Dream with me this winter night.

And of course, Amazon also points users to their "MP3 Holiday Store," which includes a special section of 100 different holiday mp3 albums that are bargain-priced at just $5 each. I'd laugh this off
except the selection actually does includes some of my all-time favorite Christmas albums, including Christmas with the Rat Pack, A Jolly Christmas from Frank Sinatra, Bing Crosby's I Wish You a Merry Christmas, and an expanded version of Vince Guaraldi's music for "A Charlie Brown Christmas.". There's also Christmas albums from Weezer, Christina Aguilera, Zooey Deschanel's band "She and Him," and even the cast of Sesame Street – plus some performers you wouldn't expect, like Bob Dylan and Twisted Sister.
All these and some other $5 Christmas album downloads are at tinyURL.com/AmazonXmasMP3s
Or would you like to write to Santa Claus? There's an app for that — at least, if you own a Kindle Fire tablet (or an iPad). Wednesday Amazon announced a free Santa app to create holidays wish lists, "for children and their parents…to share with friends, family and Mr. Claus." They've identified more than half a million popular "kid-friendly" items available on Amazon, and according to the director of Amazon Mobile, the apps makes it "fun, easy and intuitive for kids to find exactly what they want." Just point your browser to amazon.com/santa_app
There's books, of course, but also toys, games, video games, music, and even movies and TV shows — and you can browse the individual categories or search for specific items. By secretly tracking which gifts have been purchased, it can helip different relatives avoid buying the same gift, and Amazon says the app offers "a great way for parents to spend some quality time with their kids…"
And, "to help make certain there's a smile Christmas morning."