I've become a fan of Amy Rutberg — the blonde actress who appears in Amazon's newest Kindle ads. But I was curious to see what she's done besides those 30-second Kindle commercials. And then I discovered a surprisingly candid video she'd filmed of herself backstage during a performance in a New York theatre! (Point your web browser to
http://tinyurl.com/AmyRutberg
). Watching it, I felt a little like the Kindle ad paparazzi. But I guess it's all part of the job…
When she was chosen for Amazon's Kindle ad, Amy Rutberg was a stage actress. (Though according to the Los Angeles Times, years ago she'd considered going to law school after college…) And even before the Kindle ad, she'd already had an interesting career. She appeared in an L.A. theatre production of "Man of La Mancha" which started Robert Goulet, as well as a Los Angeles production of The Rocky Horror Picture Show," and she once did a scene with Jeff Goldblum on an episode of Law and Order. And once she even played Helen Keller in a parody of bad Broadway musicals!
But this fall, Amy appeared in a New York stage play billed as a "holy outrageous new comedy" called "The Divine Sister." One site described it as an "outrageous comic homage to nearly every Hollywood film involving nuns: The Song of Bernadette, The Bells of St. Mary's, The Singing Nun and Agnes of God." A convent's Mother Superior was played in drag by Charles Busch — who also wrote the play's script. His other plays include "Psycho Beach Party" and "Vampire Lesbians of Sodom" — and Amy Rutberg played a character named "postulant Agnes".
The play had caught the attention of Playbill — an influential monthly magazine that's passed out at most major theatre productions (with a special inset providing the cast of each play). And last November, they gave Amy a flip camera just so that she could film a backstage tour of the production for their web site! "Hi Playbill!" she says, sounding exactly like her character in the Kindle commercial. Talking fast and enthusiastically, Amy holds the camera just a little too close to her face, and announces "Welcome to The Divine Sister! I'm Amy Rutberg, and I play Agnes. So come on in! I'm going to show you what it's like to have a typical Thursday…"
Four months later, in March, the play closed after 253 performances and an eight-month run in a 199-seat theatre. But The New York Times had called Amy's performance in the play "delightful", and Backstage magazine said she gave her character "an appropriately off-kilter spin." In an apparent parody of Meg Tilly's role in "Agnes of God," Amy played a postulant "possessed by visions and voices," and Curtain Up magazine hinted that her character ultimately "develops something of a Jeckyll and Hyde persona…" And in this video, Amy's preserved that magical moment in time when the play was in the middle of its run — and at least part of the video was shot backstage during an actual performance! (To watch part 2 of the video, point your web browser to http://tinyurl.com/AmyRutberg2 ).
It all feels very authentic, especially before the production when Amy carries the camera to show the view that the actors are seeing from the stage. "I mean, we can't really see people in the audience because it is, um, pretty dark, but we can see these lucky audience members who are in our pews," she says — though as part of the production, the first row of comfortable theatre seats were actually replaced with authentic wooden pews. "I don't know if you can tell, but they're only a foot and a half in front of us. So the good news is, you know, they get to see it all up close and personal," Amy jokes. "But the bad news is, I bet they get spit on quite a bit!"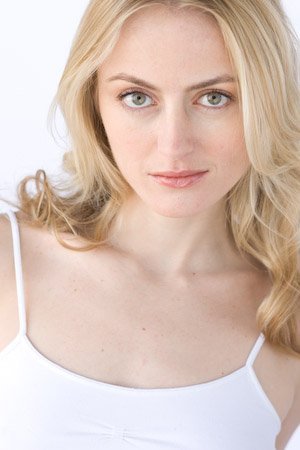 I don't know if Amazon discovered Amy through this play — or even because of this video. But it's fun to watch the actress just months before she appeared in a major TV ad campaign. The cast greets Tyler Furgeon (from the TV show "Modern Family") who'd been out in the audience that night. And at the end of the video, Amy tells the camera at the end that it was "A special night because it was my birthday. We're just having a great time."
And then she's seen blowing out candles and making a wish…