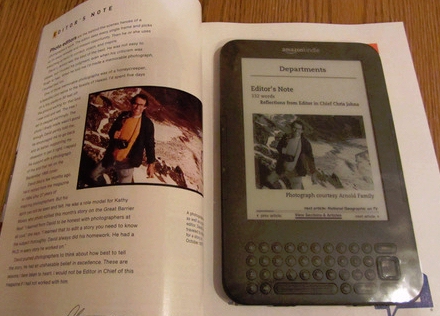 I've been surprised how many new magazines have suddenly come out with Kindle editions. This spring I noticed the arrival of National Geographic magazine, which you can
read on your Kindle for just $1.99 a month.
And it's one of several new magazines sporting a new feature — the ability to read the magazine with color images using a Kindle app on an Android tablet or smartphone!
It's a sign that Amazon may be striking deals to make color magazine content available for the (still-rumored) release of a color tablet-sized device.
There's several other magazines in the Kindle store which are now also listed as available on Android devices. Science News — delivered every two weeks — has lavish color images (along with tantalizing tidbits of news). Smithsonian Magazine — delivered monthly — is published by the famous Washington D.C.-based museum, and supplements its exhibits by covering "the arts, environment, sciences and popular culture" (according to its description at Amazon.com). All three of these magazines are available for around $2.00 — and you don't even have to sign up for a subscription. Each one offers a 14-day free trial — but you can also purchase a single issue.
It's easy to forget about magazine subscriptions when you're busy reading e-books on your Kindle. But here's a list of some of the new and interesting magazines that are now available on the Kindle.
E-books are rocking the publishing industry, so they're a constant presence in Publisher's Weekly. (The magazine describes itself as "the definitive professional resource covering every aspect of book publishing and book selling.") It's a must-read for people in the industry, and for more than 100 years the magazine has compiled an annual list of the best-selling books. It was a bellwether moment when this year, for the first time ever, Publisher's Weekly began including e-books in theri calculations. A monthly subscription on your Kindle costs $19.99 — though of course, it's delivered ever week.
Some good magazines about politics are now available on the Kindle. For conservatives, there's National Review. (I still remember when editor William F. Buckley hosted a talk show on PBS.) For more liberal readers, there's The New Republic. (One reviewer on Amazon.com said they'd been reading the print version for more than 25 years.) Every two weeks new editions of the magazines are delivered to your Kindle. But if you're a libertarian — or somewhere in between — there's also Reason magazine (delivered monthly), which promises "a refreshing alternative to right-wing and left-wing opinion magazines by making a principled case for liberty and individual choice."
If you're looking for straight news, the Christian Science Monitor actually publishes a weekly magazine. For business and technology news, there's Fast Company magazine (available each month on the Kindle for just $2.49) and the Harvard Business Review (delivered monthly for $5.99). Of course, a version of The New Yorker has been available on the Kindle for a while, but there's other magazines offering news that's even more specialized. For example, there's 2600 Magazine: The Hacker Quarterly – and on May 15th, a new magazine appeared in the Kindle Store that was devoted solely to teen idol Justin Bieber. ("Just Justin.")
Even if you enjoy reading mystery short stories, the Kindle offers two of the best monthly collections — Ellery Queen's Mystery Magazine and Alfred Hitchcock's Mystery Magazine. And if you're an aspiring writing, there's Poets and Writers Magazine (as well as The New York Review of Books.)
And who knows? Maybe soon you'll be able to read these magazines on a new Amazon tablet!