Something very special happened this morning on a commuter train in to San Francisco. I was reading my Kindle, but I looked up to see a surprising poster on the walls of the train station. It was a painting of someone who was reading on a commuter train in to San Francisco. And the characters from the book were riding along on the train with them!
It's a great series of art posters that was commissioned by the administrators for San Francisco's BART trains, and it apparently celebrates the joy of reading during your commute. A spokesperson says they'd asked the artist to consider what was special about the experience of riding the trains — "and then bring to it their own interests." And in a small island town in the San Francisco bay, artist Owen Smith had a very personal idea. That "You can spend your time reading…whether it's a book or on your Kindle or iPad."
I love the way his paintings imply that we're all somehow magically together. While a woman reads The Joy Luck Club, she's sitting right in front of the older Chinese mother from the book, who's watching over the daughter who appears in the foreground. The 1989 novel was set in San Francisco (and author Amy was from the Bay Area), so if its characters were here today, they'd probably be riding along with us on the train. Plus, the novel also told it's story through the perspective of several different generations. It's almost like the artist's choice is suggesting that somehow, we can even transcend time itself — while commuting in to work!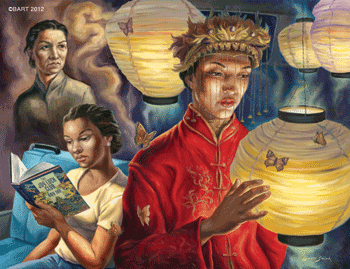 A Kindle can definitely brighten up your commute — and it's something I noticed on my last visit to San Francisco. I'd worked there in the last 1990s, and as I'd looked around during my morning commutes back then, I'd seen lots of people reading
newspapers
. Today you notice a big difference: now almost no one is rustling around through a newspaper, trying desperately to find the right section. But there's lots and lots of handheld devices — lots of Kindles, a few tablets, an occasional Nook, and even people reading on their cellphones!
But there's something more to it than that, since we're all still sitting there together, in a spontaneous moment of community. I feel like the artist understood that feeling, and just took it in another direction. Because while we're silently sharing a space, we're also sharing it with those unseen people who wrote the books that we love the most. Somehow on the train, your personal space fills up with all the characters from their stories…
For example, in another poster the artist celebrates Dashiell Hammett, who wrote the gritty detective novel The Maltese Falcon. Hammett lived in the city himself, and in the novel his detective conducts an investigation throughout the city stress of San Francisco. But on the poster, that detective is riding on the commuter train, looking alertly over his shoulder at a suspicious femme fatale who's sitting by the train's doors. Through the window, you can even see a neon sign for John's Grill — a real San Francisco restaurant which also appears in the novel.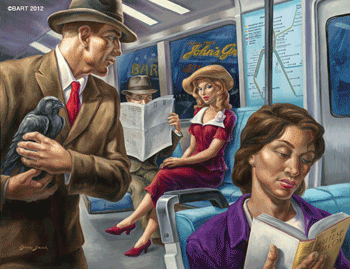 In a way, there's one more person who's sharing our space on the train – the artist who created these posters. Artist Owen Smith didn't try to add any more overt message, saying "If it's a little mysterious, that's OK…" But he's reminding us of the precious things we can experience while riding a train. Even when we're reading quietly to ourselves, we're still connected to lots of people – both real and imaginary!