It's been six months since Amazon opened their cutting-edge 3D Printing store — and since then, it's been stocked with many new weird and wonderful products. They're created on demand, meaning you can add any thing you want, whether it's your name, your initials, or even a likeness of your own face. Here's my selection of some of the most interesting new items.

For a shortcut to Amazon's 3-D printing store, point your browser to
tinyurl.com/AmazonPrints3D
It's ironic that one of the most popular items in Amazon's 3-D print store is…a case for your iPhone. (Amazon sells a smartphone too — but Amazon's own vendors have apparently decided that they'll get more customers by catering to the iPhone crowd!) But you can order those cases in lots of cool patterns — like the Steampunk pattern above — or get an iPhone case printed with wings, a skull, rivulets of blood, or a nice fractal pattern of leaves. One vendor even created a fancy textured 'weave' case — and yes, you can carve out your own text along the side of the case!)


Strange Christmas Ornaments
One vendor got the idea of creating Christmas ornaments with a 3-D printer — and then customizing them with some wild patterns. They're now selling a snowflake-shaped ornament that's made out of silhouettes of people twerking. And another snowflake ornament uses silhouettes shaped like cannabis leaves. It comes in nine colors — though I'm guessing the most popular one is green. But at least it shows that anything can be printed with a 3-D printer, and you're not limited to just jewelry, key rings or a dog tag with your dog's name printed on the inside…

Sterling Silver Luxury Cuff links
A company named UCODO is using 3-D printing to create luxury items out of sterling silver. They've created a pair of the most gorgeous cuff links I've ever seen — retailing for $255 — but you can customize them with your initials. (17576 possibilities!) And Amazon site also shows a special pair where the initials have been thoughtfully replaced with one four-letter word: 'Love'



Doctor Who Tardis Cookie Cutters
"Make cookies that will be remembered throughout time and space!" promises their page on Amazon. ("Cookie Cutter Novice? Or just need to make lots and lots of your very own edible Space and Time Traveling Call Boxes..?") This two-piece set of Dr. Who cookie cutters lets you stamp all the necessary details right into your dough, after you've cut it into perfect Tardis-shaped cookies. "Worked great for sugar cookies, and cutting out polenta," wrote one reviewer on Amazon. "The impression stayed in the cookies, even after baking…"
Customized Bobbleheads
imagine buying a bobblehead that's been customized so it looks like you! You can choose the bobblehead's eye color, hair color, and hairstyle, and even add eyeglasses. (See a picture at the top of this page.) Even the spring inside the bobblehead is generated by the printer, and it's only when the bobblehead is produced. "Turn yourself, friends, family, and coworkers into bobble heads," reads the product's description on Amazon — which suggests it as the ultimate personalized gift.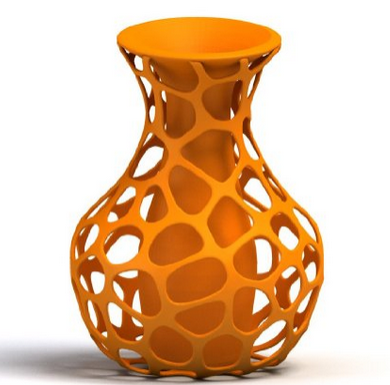 3D-Printed Vase
A high-end nylon polyamid is used to create this attractive piece (in eight different colors) — and it's the culmination of a lifetime of artistry. A Canadian software engineer (and "a maker by nature") spent almost 20 years crafting traditional clay sculptures and pottery before deciding to experiment with the new medium of 3-D printing. "I created The Hybrid Core Vase when I was looking for a vase to print for my wife and couldn't find anything elegant," explains its page on Amazon.
"I decided to create my own, and have been 3D modeling ever since!"
Remember, for a shortcut to Amazon's 3-D printing store, point your browser to
tinyurl.com/AmazonPrints3D