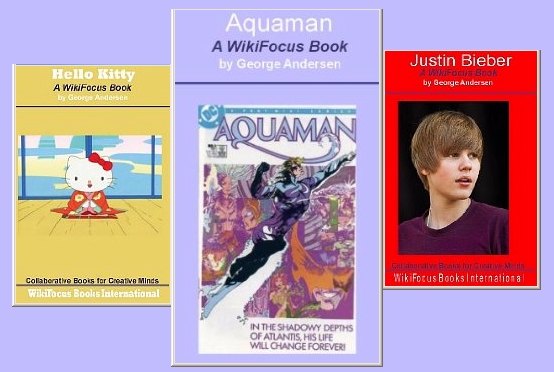 I was stunned when I read it. The ebook was only a few pages long — and nearly all of its text had been cut-and-pasted from somewhere else. Specifically, it came from Wikipedia, an online encyclopedia with a page about nearly everything — and everyone. Someone had looked up a popular celebrity, then transformed their Wikipedia page into a biography that they were selling as a digital ebook.
For $18.95…
In my case, the celebrity was Charlie Sheen — but he's not the only celebrity to be "honored" with a skimpy ebook biography. Amazon's Kindle Store is filled with millions of wonderful books, but mixed into the virtual bookshelves are also hundreds of "quickies" which barely match the definition of a book. It's a real shock when you first realize just how bad an ebook can get — and how far an author will go to earn a fast buck. In July, one blogger even discovered an author named George Andersen who's produced nearly 900 different "derivative" ebooks in a quickie series that's called "WikiFocus".
Apparently this author cranked out 887 tiny tomes that were cut-and-pasted from Wikipedia about random topics that they'd hoped would be popular — including celebrities, TV shows, and even comic book characters. There's small "WikiFocus" ebooks about Batman, Superman, Spider-Man, and Green Lantern — but also separate ebooks about lesser superheros like Supergirl, Catwoman, Aquaman, and the Archie comic strip! (Is the series a strange glimpse into the author's psyche, or just an intense burst of pop culture paparazzi-ism?) Celebrities also got their own quickie ebooks, including Justin Bieber, Hulk Hogan, Eminem, and Hello Kitty. The author even tried writing a quickie ebook about the Flintstones cartoon series — but spelled "Flintstone" wrong in the ebook's title!
Of the 887 ebooks, all but 10 earned terrible reviews, averaging one star or less — or received no reviews at all.

"This 'book' is just a word for word copy of the wikipedia page…"

"Total waste of money. Much shorter than any WIKI article."

"It ends after 31/32 percent. The rest is just references."

"worthless…a half cup of coffee would have been more worthwhile…I cannot prove it, but I seriously believe this is a 5th grader's book report being peddled as 'a commentary.'"

And there was even something suspicious about the 10 ebooks which earned positive reviews. Seven of the reviews were written by the same person — who had only written seven reviews, all of them about the WikiFocus series. And most of them were just a few sentences long — all of them enthusiastic, and all of them sounding generic.

"Highly recommended for anyone with an interest…"

"this is absolutley [sic] the book for you. Highly recommended…"

Most of these reviews received very negative ratings from other Amazon users. ("2 of 18 people found the following review helpful," Amazon warns about one, which gushed that "all of the WikiFocus books I have read have been awesome material…") That review even drew some nasty follow-up comments from other Amazon reviewers. ("You're obviously just part of the SPAM machine, pimping out these shoddy publications that are just scrapes of free sources and sold to unsuspecting people. What a sad life you must lead…") But undaunted, the WikiFocus fan continued leaving more positive reviews for other books in the series. ("I am not sure what the other reviewer was looking at, but this is a GREAT eBook…")
Almost all of the "ebooks" sell for $1.99, and I was sad when I saw one reviewer who'd written "I wish i could get my money back." You can get your money back! Amazon's Kindle Store always let you return any ebook within seven days of purchasing it, according to Amazon's official "Kindle Return Policies" page.

"Content you purchase from the Kindle Store is eligible for return and refund if we receive your request within 7 days of the date of purchase… To request a refund and return, click the Customer Service button in the Contact Us box in the right-hand column of this page to reach us via phone or e-mail."
To help dissatisfied readers to reach that page, I've created a shorter URL — tinyurl.com/ReturnAnEbook — which should be easier to remember. I remember the reviewer who wrote "This book is a total waste of money." If you really feel that way — go and get your money back!
If everyone did that, these authors wouldn't have any reason to keep cranking out these quickie ebooks!