For the last two days, Amazon's been selling the Kindle 3 at an even lower price than usual. A refurbished Kindle 3
cost just $129.99
— a reduction of more than 31% from its usual sales price of $189.00. And for the WiFi-only version of a refurbished Kindle 3, the price was
just $99.99
— also close to a 30% reduction from its usual $139!
This is the lowest price I've ever seen for a refurbished Kindle. Back in March, Amazon lowered prices on a refurbished Kindle 3, but only by ten dollars — to $129.99 for the WiFi-only version, and $179.99 for the Kindle 3G. What's going on here? Maybe Amazon's getting rid of them, because they're planning to start selling a newer version of the Kindle soon. The Wall Street Journal reported recently that by the end of September, Amazon will have released two different versions of the Kindle — citing "people familiar with the matter." (And at least one of the new Kindles will even have a touchscreen, according to the newspaper's sources.)
It's a strategy Amazon's used before. In a Kindle discussion site, one poster remembers buying a cheap Kindle 2 last summer for just $109 — only to discover that a month later Amazon was releasing the new Kindle 3! But it turns out that it's not just Kindles that Amazon's selling at a discount. Their "Warehouse Deals" page is also offering big discounts on over 20 different refurbished Kindle jackets and skins. (My favorite was the yellow Kindle skin with the smiling face of Mickey Mouse.)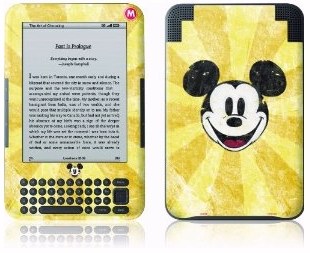 You can even buy a refurbished Kindle 2 for just $89.99. And Amazon's special page also promises they've checked the quality of all the refurbished items. "Amazon receives a returned product," explains a flow chart at the top of the page. "Product's working order is ensured… Product quality level is determined… Product is offered at deep discount." In fact, the home page for Amazon's "Warehouse Deals" now features a whole section devoted to the Kindle and Kindle accessories.
So if you've ever wanted to shop for another — or for an interesting Kindle jacket — here's your chance to find one at a discount!