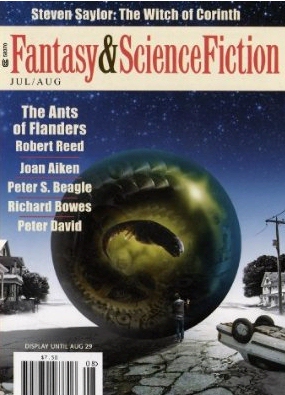 It's "the best fiction magazine in America," according to Stephen King. And Amazon's sending it to your Kindle for free!
It's "Fantasy & Science Fiction magazine," a legendary collection of short stories and commentary which has been publishing for over 60 years. "Each bimonthly issue offers compelling short fiction," Amazon explained in a press release, plus ,"the science-fiction field's most respected and outspoken opinions on books, films, and science." You can sign up for your free subscription by pointing your web browser to tinyurl.com/FreeSciFiMag .) And according to Wikipedia, this magazine has a long history of publishing some of the world's most imaginative authors.
For example, in October of 1978, they began publishing all the Stephen King short stories which would later appear in the first volume of "The Dark Tower". They published Robert Heinlein's Starship Troopers (which ran as a serial in 1959 titled "Starship Soldier"). They published the novella "Flowers for Algernon" by Daniel Keyes, and Harlan Ellison was a regular columnist, contributing short stories like "Jeffty is Five" and "The Deathbird". And the magazine even published Kurt Vonnegut's short story Harrison Bergeron in 1961 — a story which later appeared in the collection "Welcome to the Monkey House". (It's set in the year 2081, shortly after the United States passes the 213th amendment to its Constitution mandating absolute equality…)
Fantasy & Science Fiction magazine is "the definitive magazine of the genre," according to Amazon's Vice President for Kindle Content. "We know our Kindle customers are huge fans of this category, and we're excited to offer them a free and exclusive subscription to the magazine to read anywhere." There is one small caveat. Though each issue of the print edition — published six times a year — has a whopping 256 pages, Amazon's free offer is for only a smaller "digest edition". According to Amazon's press release, subscribers "will get access to all of the magazine's editorial content – editor's recommendations, 'Curiosities' (odd books of enduring interest), film reviews, book reviews, cartoons and humor, and 'Coming Attractions' (highlights of each issue) – along with one short story, all at no cost."
But you can also sign up your Kindle to receive the full 256-page edition for just 99 cents more — and it's available exclusively on the Kindle. (Though it's also available on the Kindle apps for the iPad, iPhone, iPod Touch, and Android devices.) I'm a big fan of science fiction stories, so I'm seroiusly signing up to receive all 1,536 pages each year. I still remember when Stephen King a science fiction story about a Kindle which could receive descriptions of events from the future.
In real life, Stephen King has always been a big fan of the Kindle — and judging by Amazon's latest press release, he's even more excited now. When he heard the news about a free version of "Fantasy & Science Fiction magazine," Stephen King had one more sentence to add.
"Kindle readers are in luck."