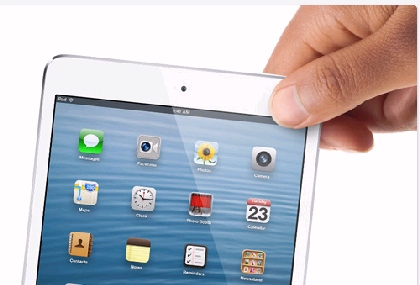 People have been worrying about this for more than a year — ever since Amazon came out with their color, touchscreen Kindle Fire tablets. Amazon's insisted that they remain commited to their black-and-white Kindles too, but CNN is reporting that
other manufacturers of digital readers might not be so lucky.
"As tablets boom, e-readers feel the blast," reads the headline in CNN's "Games and Gadgets" section. The popularity of tablet devices may be hurting sales of black-and-white "readers".
They point to the dramatic collapse recently in sales of the Nook. (Barnes and Noble apparently reported that for the last three months of 2012, their Nook division actually earned 26% less than it had the previous year.) At first I'd thought the Nook was just losing its customers to Amazon's own Kindle readers. But CNN cites some technology analysts who have a different theory.
"It's not that the Nook failed," argues one analyst from Forrester Research. "It's that the world of tablets exploded…" The Kindle Fire and iPad-style tablets have proven more popular than anyone expected, and they're now becoming a regular part of our lives and the way we use computers — "not just a handy device to consume a bit of media." It's strange to remember that the very first iPad was released less than three years ago. But CNN gives Amazon credit for proving that other companies could also successfully sell their own tablets, inspiring even more companies to enter the market.
Google entered the tablet market soon after with the Nexus 7, and CNN believes that the Kindle Fire "likely nudged Apple" into building a smaller iPad Mini. The end result is that there's a tablet for every budget. But that may also make people less interested in buying a black-and-white reader that's dedicated mostly just for ebooks, the article concludes — adding "this trend has been particularly unkind to the Nook."
But could the Kindle suffer the same fate, losing its audience to the fancier color touchscreen tablets? CNN posed the question to another well-respected technology research firm called Gartner, who acknowledged that "It's a rough market." But he seemed to think it was rougher for companies which aren't named Amazon. The iPad dominates the market for high-end tablets, and in the rest of the market, Amazon's Kindle "brand" has already established itself. If I'm reading this right, he's saying that the lower demand for black-and-white readers actually helps Amazon, because it makes it harder for new competitors to establish themselves against Amazon.
Of course, not everyone wants a multi-functional device that does more than display ebooks. (My girlfriend refuses to install any games on her Kindle, because she's worried that she'll then start endlessly playing those games — instead of reading on her Kindle, which is what she really loves doing!) But on the other hand, sometimes it's hard for me to even remember what the world was like before the Kindle came along.
Just imagine how much the world could change again over the next five years — especially if people decide to start reading more their ebooks on tablet computers!