It's just 99 cents now to purchase the new Kindle word game, "Throw in the Vowel." (I know, because I'm the game's co-creator!) :) Take a look at this URL…
http://www.tinyURL.com/ThrowInTheVowel
But I was really excited to see new five-star reviews piling up for the game. It's gotten 16 of them so far, from all around the country — from Alabama, Florida, California, Kentucky, Oregon… Those five-star reviews have helped to make it one of Amazon's top-rated Kindle games — we're actually two ranks above Yahtzee — and it's always a thrill for me to read what other people are saying.
"I find myself unable to put it down…" wrote the reviewer in Louisville.
"This game is one of the neatest and most different I have ever done… Definitely a great word game if you are not into crosswords and get tired of word search.
Here's a screenshot showing how the game actually looks. (I almost cried when I saw how beautiful the background image was, thanks to our very talented graphic designer…)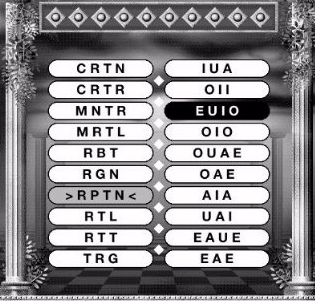 I spent over a year creating this game with my business partner, Dr. Jeffrey Prince, so it was really rewarding to finally see actually people playing with what we'd built – and enjoying it! "If you love word games, you'll love this!" wrote a reviewer in Pennsylvania, who said it became "one of my favorite Kindle games." And Len Edgerly, the podcaster behind the popular "Kindle Chronicles" online broadcasts, described it as "Invigorating fun with words."
"Throw in the Vowel is made to order for taking a break that refreshes and entertains. Highly recommended!"
We just launched the game this spring, but we didn't release the Kindle Touch version until just this June! And right now our game is still one of Amazon's top-50 best-selling Kindle games! (In fact, it's now the #5,097 best-selling item in the entire Kindle Store!) I'm actually not sure how many days this special 99-cent offer is going to last, so this is your best opportunity to see what everyone's getting so excited about it. As we ask on the game's web page at Amazon…
Can you "Throw in the Vowel"? :D
Check out the game and its five-star reviews at
http://www.tinyURL.com/ThrowInTheVowel