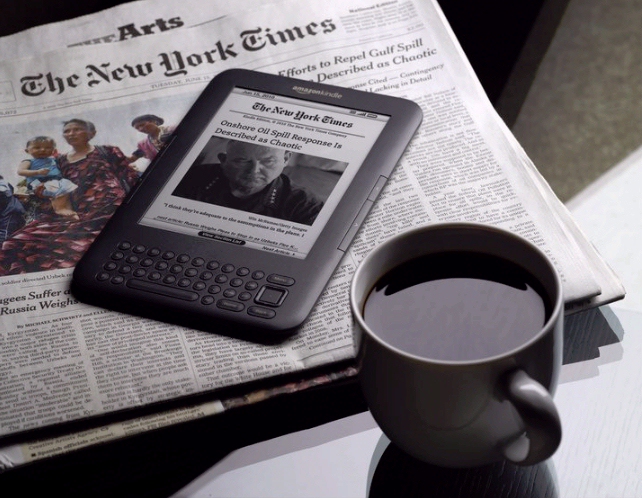 Amazon obviously knows a lot about e-books, and they've just released
their list of the best Kindle e-books of 2011… "so far".
"This midyear retrospective highlights the best books released in 2011 between January and June," Amazon explained in a press release. "Customers looking for great books to read this summer will find an eclectic list, from a faux memoir conceived as an introduction to a long-lost Shakespeare play to one of the most fantastic survival stories of World War II."
I like the way they've filled their "best of 2011" page with several different lists — nearly a dozen — where Amazon's selected the best books in different categories. There's the best novels, the best biographies and memories, the best mystery and thriller e-books, and even the best books on business and investing. And they've also selected the best romance e-books of 2011 (so far) — and the best science fiction. Here's links to all the different categories where Amazon's chosen this year's best e-books.
Fiction
Non-Fiction
Biographies and Memoirs
Business and Investing
Mysteries and Thrillers
Romance
Science Fiction
Teens

So what books made the list? #1 is "Lost in Shangri-La," a non-fiction best-seller which Amazon picked as their favorite e-book for May. (In 1945, 24 airline passengers crashed in a New Guinea jungle, and the three survivors are "caught between man-eating headhunters and enemy Japanese" as they seek sanctuary in tribe of superstitious natives.) And Tina Fey's humorous autobiography "Bossypants" has also reached the #6 spot on Amazon's "best of 2011" list. (Amazon called the memoir it "Short, messy, and impossibly funny.") Here's the complete top 10.
Lost in Shangri-La by Mitchell Zuckoff
The Tiger's Wife by Téa Obreht
In the Garden of Beasts by Erik Larson
Blood, Bones & Butter by Gabrielle Hamilton
The Tragedy of Arthur by Arthur Phillips
Bossypants by Tina Fey
22 Britannia Road by Amanda Hodgkinson
Before I Go to Sleep by S. J. Watson
Moonwalking with Einstein by Joshua Foer
Please Look After Mom by Kyung-Sook Shin

But Amazon also noted that Fey's book was part of surprising trend. "Perhaps surprisingly, half of our favorite books so far this year were written by debut authors." There's even a first novel by comedy writer/actor Albert Brooks (who wrote and directed the movie "Defending Your Life" and supplied the voice of the father in Pixar's "Finding Nemo"). Surprisingly, it turns up on Amazon's science fiction list — though there's also a few political jabs about the way America approaches social security, healthcare, and preparedness for natural disasters. Its title? "2030: The Real Story of What Happens to America."
This list-making is one of Amazon's favorite activities, according to their Managing Editor of Books. "Our goal with Best of the Year So Far is to go beyond our personal favorites and identify books that transcend genre," he said in a statement Monday. "The books on our Top 10 list are engrossing reads that you could give to anyone, no matter what their taste."
Did Amazon get it right? Click here to explore their "best of" lists yourself!