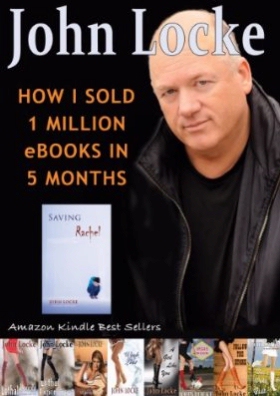 It's hard not to find this inspiring. Amazon's only had seven authors who have ever sold one million e-books in their Kindle store. But last week Amazon
announced an eighth author
had also achieved that milestone — and this time, it's a little different. Instead of working through a major publishing house, Amazon's latest million-seller is a self-published author!
As of last week, John Locke has sold 1,010,370 Kindle books, Amazon announced — and he did it using Amazon's own Kindle Direct Publishing platform. Locke said (in Amazon's press release) that the platform "has provided an opportunity for independent authors to compete on a level playing field with the giants of the book selling industry. Calling it "the greatest friend an author can have," he said "Not only did Kindle Digital Publishing give me a chance, they helped at every turn."
It's always exciting to see someone strike it rich, seeing all of their dreams coming true. Last week the Associated Press asked Locke if he'd want to sign a deal with a major publisher, but Locke casually
insisted that no, "It just wouldn't be fun for me." Instead he said breezily that he liked the idea "of being able to walk away from writing if it stops being fun." And he's just published another e-book offering the secrets to his success — called "How I Sold 1 Million eBooks in 5 Months!"
Yes, five months — if the book's title is to be believed. "John Locke has sold more than 1,000,000 eBooks by word of mouth!" reads an announcement on the author's web site. "All this was achieved PART TIME, without an agent, publicist, and at virtually no marketing expense!" he adds in the description for a new book. And in its introduction, Locke lists out some equally impressive accomplishments.
For example, he's the first self-published author to reach the #1 spot on Amazon's best-seller's list — and the first to hold both #1 and #2 at the same time! In fact, at one point he had four books in the top 10 — and he's also had seven books in the top 34 simultaneously, and eight books in the top 50. "These numbers are not positions within a category," John writes in his new book. "They are positions that include all Kindle sales including fiction, non-fiction, magazine subscriptions, and game apps!" Locke writes that by the middle of March, "it had been calculated that 'every 7 seconds, 24 hours a day, a John Locke novel is downloaded somewhere in the world.'"
Ironically, his book opens with a boilerplate disclaimer. ("Names, characters, places and incidnets are either the product of the author's imagination or are used fictitiously.") But it's an exciting story for anyone who's ever considered writing an e-book. Between September of 2010 and March of 2011, Locke's monthly Kindle sales went from 63 e-books…to 369,115. And when he released "Vegas Moon," it jumped to the #3 spot on Amazon's best-seller list within just two weeks.
But the numbers aren't the real story, and it's even more inspiring to read Locke's perspective about how the world of book publishing is changing. He describes the publishing industry as "high school on steroids" — where beautiful people hold the upper hand over everyone else. (In this case, through expensive newspaper ads promoting their books, along with in-store book displays and carefully-arranged promotional reviews.) "As a self-published author, I'm boxed out of these marketing opportunities," he notes. "Worse, I can't afford to offer my my print books as cheaply as they can…! I'd like to complete, but it's hard to beat the home team on a playing field that's hopelessly slanted against you!"
"eBooks allow a guy like me an opportunity to level the playing field."
Maybe it's more proof that the world really is changing — already — due to the popularity of the digital readers like the Kindle. It seems like more and more authors are now starting to cross that magic line: one million e-books sold. Three more authors joined the "Kindle Million Club" in just the first week of June, and within two weeks Amazon was announcing that this fourth author had joined them. Maybe there's just more people this year who are finally able to buy e-books.
Last week, the signs seemed pretty clear. Amazon's Vice President of Kindle content even issued a statement, saying "It's so exciting that self-publishing has allowed John Locke to achieve a milestone like this. We're happy to see Kindle Direct Publishing succeeding for both authors and customers and are proud to welcome him to the Kindle Million Club." But meanwhile, Locke himself continues writing away on his personal blog on the internet, sharing a peek into the mind of one of the eight most-successful Kindle authors of all time. His latest slogan?
"You only notice the ones who are breaking the rules!"