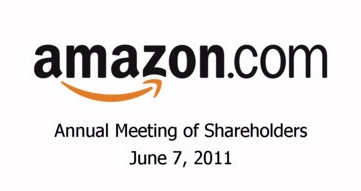 It happened this morning — the once-a-year day when Seattle sees a big gathering of the people who hold Amazon's stock. Amazon also broadcasts it on the web, and this year, I decided to listen in to see if I'd uncover any hidden truths. The event lasted for exactly one hour, and I was rewarded for my efforts by hearing a long presentation from the CEO of Amazon himself, Jeff Bezos.
And of course, he talked about the Kindle.
"Our vision remains the same: every book, ever printed, in any language, all available in less than 60 seconds."
Bezos said it'd be "incredibly cool" to achieve his vision of a "universal library," adding "The team is a team of missionaries, and they're working very hard on this." He pointed out that the Kindle store now has almost a million books, showing that the number of e-books available in the store has nearly doubled each year.
2008: 125,000
2009: 275,000
2010: 540,000
2011: 950,00
I enjoyed the backstory he provided about why those numbers are important. "When we launched Kindle less than four years ago, we launched with only 90,000 titles. And by the way, that was incredibly hard work to get those 90,000 titles into e-book form — huge heavy lifting, working together with publishers to get that done. Three and half years later, we're now at 950,000 titles." And then the CEO of Amazon shared his own personal perspective. "For me, I rarely now come across a book that I want to read that isn't available in Kindle format."
"And by the way, that 950,000 figure doesn't even include the millions of free pre-1923 out of copyright books that you can also read on your Kindle."
He also bragged that e-books are now outselling printed books at Amazon — but there was an even bigger milestone. "One of the things that has happened as a result of that is that our book growth rates are now the greatest that we've seen in 10 years." But the most startling thing about that was that even printed book sales were growing at Amazon. "Our physical book business still continues to grow every year. So we have a fast-growing Kindle business, layered on top of a growing physical book business, which is accelerating the growth rate of that combined business.
In fact, my favorite moment was probably when Jeff Bezos first stepped up to his microphone. "Good morning, everybody. Thank you very much for attending the annual shareholder meeting… It's very much apperciated, the shareholders who take the time to come. We had 34… (He puts up the wrong slide.) Let's see… No… Ah ha!"
"I think that that slide was worth waiting for." (Laughter) "We had $34 billion in sales last year, and the unusual thing about that is the growth rate. 40% growth on that base of sales is very unusual." That number had already been announced earlier in the year, but Bezos was very gracious about using the shareholder's meeting to acknowledge all the efforts of Amazon's 33,700 employees.
This is not something that CEOs accomplish. This is something that a broad team of people working very hard for a long number of years accomplishes. It's not something that that team can even do in the current year. It's something that that team works on year after year, laying a foundation that allows for that kind of growth at that kind of scale.

It's difficult operationally. It's difficult in terms of attracting customers to be able to support that level of scale, and the expansion plans that support it. So anyways, it's something that I'm very proud of, and I'm very proud on behalf of this big team that made that happen.

With just five minutes left to go, one shareholder stepped forward with a question about Amazon's vision for the Kindle. Not the long-term vision, but the now vision — their short-term and intermediate plans for improving the Kindle. "Well, you know," replied Bezos, "our approach to electronic books, Kindle — it's very straightforward, and we've been clear about our strategy. We want to have the best purpose-built e-reader. We want to have the best e-book store. And we want to have the best ecosystem, so that you can read where you want to." He talked about how Amazon developed the WhisperSync capability so customers could continue reading their e-books (from right where they'd left off) on any device with a Kindle app. "And that ecosystem approach, we think, is the right one. Because again — we're very simple-minded about this — it seems like what our customers would want."
And then it was time for his big finish.
"With that I would like to thank all of you for being supportive shareholders. Thanks for being a part of what we're doing. We're excited about continuing our mission to be earth's most customer-centric company — setting a new standard there — and being a role model for other companies who would like to start with customers and work backwards."