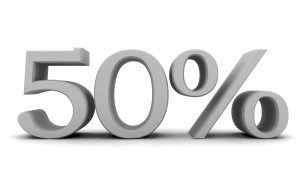 I got a surprise when I visited Amazon.com this weekend. In orange letters, they informed me they were now were offering discounts of up to 50% off on "selected Father's Day" gifts. (For a shortcut, just point your web browser to
tinyurl.com/AmazonFathersDay
). Sure enough, there's gift-friendly categories like
Small Appliances
and
Power Tools
(as well as
watches,
cologne,
and
wallets).
But there were discounts on items I could actually use myself, like a toaster over, a hand-held blender, a coffeemaker and popcorn popper!
Of course, their #1 best-selling gift item is still the Kindle (Amazon explains in big letters at the top of the page.) But there's also special offers on DVDs and Blu-ray discs. (Another shortcut: tinyurl.com/AmazonBlurayDeals.) For example, X-Men Origins: Wolverine is just $7.99 on a Blu-Ray disc (or $10.49 as a DVD), and The Dark Knight on Blu-Ray is just $10.99 (or $7.47 for a DVD). Twilight: Eclipse is just $7.45. Caddyshack is just $4.99 (or $8.49 on Blu-Ray), and John Wayne's version of True Grit is just $7.99.
It was like Amazon.com had suddenly become some kind of crazy bargain emporium. They've slashed the price on a Coleman Grill from $179.99 to just $111.26. There were 25% off deals on another classic gift item — an electric razor. And then I discovered that you can also save up to 50% every day in your own neighborhood — through a newly-launched service called "AmazonLocal".
Amazon launched the service on Thursday by offering everyone in Boise a 50% discount on ice cream, and then a 50% discount the next day on go-kart racing! ("[W]e liked the idea of starting in a city that embraces fun," Amazon told a local newspaper.) If you'd like to try the service yourself, just point your browser to amazon.com/local and then enter your Zip Code. Amazon promises you'll save "at least 50% on local restaurants, spas, entertainment, and more," with special offers that are delivered daily to your e-mail address.
Currently there are no offers available for my town, but hopefully Amazon will have some local discounts soon. And maybe someday, they'll even get around to offering a discount on the Kindle!