"Good News," Amazon posted on their web page yesterday. "You now have the option to get Kindle for $25 less — only $114."
But there's a catch…
It's the Kindle "with special offers," showing sophisticated advertisements in the screensavers, along with shopping discounts which display at the bottom of the home screen.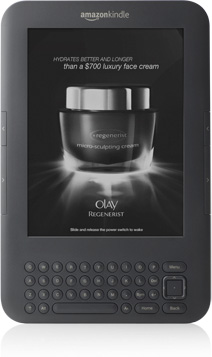 The first screensaver ads for the new Kindles have already been purchased by Visa, Procter & Gamble, Buick, and Chase Banks, and Amazon's announcement Monday noted that the ads have been specially designed for the Kindle's high-contrast, 16-color screens. I have to admit that I was impressed by the quality of the images in these screensaver advertisements. And Amazon's even created a free Kindle app and a web site (both of which they're hoping to release soon) where "anyone who's interested" can preview the upcoming screensaver ads and vote on which images are most attractive.
"Our goal is to display sponsored screensavers that you want to see…" Amazon explains on the new Kindle's web page, and they'll even let individual Kindle owners indicate their preference from a special menu that's built into their Kindle (under the "Manage Your Kindle" menu choice). "For example, you can indicate that you'd like to see more or fewer screensavers that include elements such as landscapes and scenery, architecture, travel images, photography, and illustrations."
The app (and the web site) are named AdMash — and Amazon is offering some pretty attractive deals to entice customers to the new format. Some examples?
* $10 for a $20 Amazon.com Gift Card
* $6 for six Audible Books ( $68 value)
* $1 for an album in the Amazon MP3 Store
(from a selection of over 1 million albums)
* $10 for $30 of products in the Amazon's Denim or Swim Shops
* 50% off a Roku Streaming Player (normally $99)
Amazon will update your Kindle with new screensavers and offers, and "To make sure you don't miss any of the offers, a full list of active offers is available from the menu of Kindle…at any time." But if the ads still sound annoying, remember that it also means the Kindle's sold at a $25 discount. "We're working hard to make sure that anyone who wants a Kindle can afford one," Amazon's CEO said in Monday's announcement.
"Companies sponsor the screensavers, you pay less for your Kindle," Amazon explained on their home page. "Plus, you receive offers directly on your Kindle that can save you more money…"
Of course, I have to wonder if it's Amazon's way of quickly selling off their remaining Kindle 3 devices — so they can then launch a new Kindle 4. But I may just be indulging in wishful thinking. I'm still hoping that Amazon will lower the price of their next Kindle to just $99. At least this seems like a step in the right direction.
The $114 Kindles won't actually ship out for another three weeks — not until May 3. But if you're interested in buying one, you can pre-order them here.
Or just point your web browser to http://tinyurl.com/114Kindle