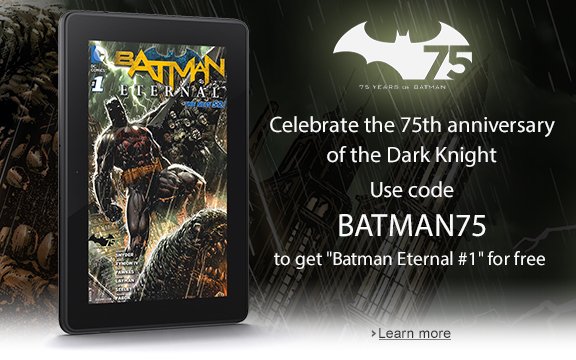 If this were Gotham City, I'd suspect it's a crime. But there's no strings attached — Amazon's giving away a free Kindle edition of a new Batman comic book. It's to celebrate the 75th anniversary of Batman – and it's just one of
several
free Kindle comic books!
For a shortcut, point your browser to
tinyurl.com/FreeBatmanComic
The comic books are available for any touch-screen Kindle — as well as the Kindle reading apps for your smartphone or other tablet devices. (The offer's good through August 3rd — so a week from Sunday.) It's a newly-launched series that begins with a showdown between Commissioner Gordon and a new supervillain. But elsewhere in Amazon's Kindle Store, there's already a big selection of more free comic books…
Also available is for free is the very first Batman comic book ever. It's issue #27 of Detective Comic — first published in 1939! And of course, it's also the first appearance of Bruce Wayne, and the original Commissioner Gordon.
To see all the free comic books, select "Price: Low to High" at
the bottom of Amazon's comic page:
If you're not interested in Batman, one of the other free comic books is The Powerpuff Girls. Yes, the pre-school superhero characters from the famous Cartoon Network show finally have their own comic book. Issue #1 brings you the new adventures of Bubbles, Blossom, and Buttercup — and all their friends in the city of Townsville. ("What fiendish secret is Mojo Jojo hiding?" asks the book's description at Amazon…)
The entire comic book industry celebrates "Free Comic Book Day" in May, and Amazon's still giving away free Kindle editions of some of the titles. There's "The New 52: Futures End," (a free comic book day "Special Edition.") And if you're looking for more Batman titles, there's Legends of the Dark Knight #1 and Flashpoint: Batman – Knight of Vengeance.
I wonder if it will still be free 75 years from now — on Batman's 150th anniversary?
Remember, to see all the free comic books, select "Price: Low to High" at
the bottom of Amazon's comic page: