Amazon is giving away a Calvin & Hobbes collection as a Kindle ebook for just $10.99. It's just one of several special deals they're offering today, as a kind of welcome to new Kindle owners. And Amazon's also giving away big discounts on hundreds of digital videos!
For shortcuts, point your browser to these URLs:

tinyurl.com/KindleCalvinAndHobbes
There's also a collection of Snoopy cartoons by Charles M. Schulz that Amazon's selling as a Kindle ebook for just $7.99. It's about Snoopy as a surfer, so its title is "Cowabunga!" You can even read it on a black-and-white e-ink Kindle, though the colorful comic strip pictures will display in full digital color if your read it on a Kindle Fire. It's over 200 pages long, so it's a nice way to get a new look at a favorite, familiar character…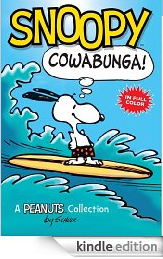 There's also some other great discounts if you poke around through Amazon today. For example, each season of the TV show Community has been discounted to just $17.99 in Amazon's "Instant Video" store. You can watch every episode in high-definition video on your Kindle Fire tablet — or in Amazon's video apps, or even online in your web browser. And "Cloudy With a Chance of Meatballs" has been discounted to just $7.99. (Also in high-definition!) You can buy a collection of 24 shorts by The Three Stooges for just $8.99 — or the original 1971 movie Willie Wonka and the Chocolate Factory — and the original version of The Sound of Music is now just $9.99.
To browse all the deals, go to
tinyurl.com/AmazonDecemberVideo


Enjoy your holiday weekend!
For shortcuts, point your browser to these URLs:

tinyurl.com/KindleCalvinAndHobbes