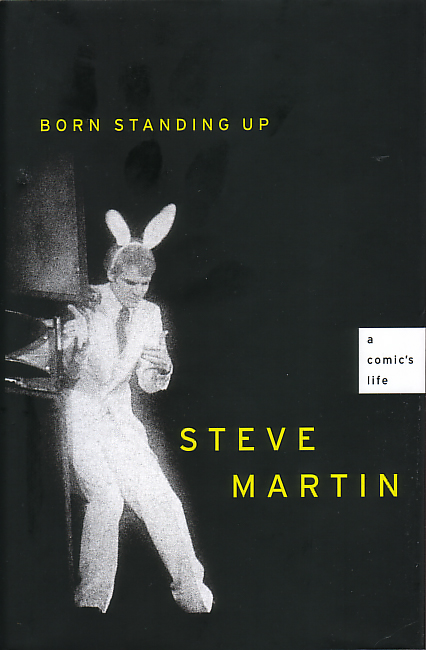 I made a mistake when I wrote that Amazon was discounting 100 Kindle ebooks
for $3.99 or less.
Because there's a lot
more
Kindle ebooks on sale at big discounts in other sections of the Kindle Store. For example, Amazon has
another
page offering
"20 Kindle Books for $2 Each"
— and then another page offering
30 Kindle Books for $3 Each
. And Amazon's also offering similar discounts on ebooks in popular genres, including Popular Romance and Mysteries and Thrillers.
But fortunately, you can find all of these discounted ebooks linked to on one page — the main page that Amazon's created for their big July sale, "100 Kindle Books for $3.99 or Less." (For a shortcut, just point your web browser to tinyurl.com/399books .) Here's some of the most interesting and intriguing "finds" from all of these discount pages.


Born Standing Up: A Comic's Life by Steve Martin ($2.99)

Yes, it's that Steve Martin — whose goofy appearances on Saturday Night Live as a "wild and crazy guy" made him a comedy superstar in the 1970s. He moved on to big-budget Hollywood movies and a second career as a serious fiction writer, but this fascinating memoir takes a bittersweet look back to the earliest days of his stand-up career. As a teenager he'd worked at both Disneyland and Knott's Berry Farm, and he describes what he learned from performing jokes for an amusement park audience that had just learned that President Kennedy was assassinated. I always knew that behind the comedy, Steve Martin was an intelligent and thoughtful man, and The New York Times calls his book "smart, serious, heartfelt and confessional without being maudlin." But I was really impressed that Jerry Seinfeld goes even further, calling it "One of the best books about comedy and being a comedian ever written."


In One Person: A Novel by John Irving ($2.99)

Amazon picked this as one of the best books of the month when it was released in May of 2012. John Irving has written some of the most famous novels of the last 50 years — everything from The World According to Garp and The Hotel New Hampshire to The Cider-House Rules and A Prayer for Owen Meany. But this time, he'd written a more poltical story, according to Amazon description of the book, which calls it "precisely the kind of astonishing alchemy we associate with a John Irving novel…, brilliant, political, provocative, tragic, and funny!"


The Adventures of Shrinkman R. L. Stine ($1.99)

R.L. Stine created the popular series of scary children's stories, Goosebumps. (One newspaper even called him the Stephen King of children literature.) But last year he released a fascinating new story about a boy who imagines a comic strip where a boy shrinks down to the size of a bug — only to discover that he actually is shrinking! "Soon he's fighting for his life against a grasshopper, a colony of ants, and even his own dog," reads the book's description at Amazon, which calls the book "Funny and terrifying and filled with BIG surprises", proving that to overcome life's impossible challenges, sometimes you need more than just size!


Cable and Deadpool, Volume 1: If Looks Could Kill ($3.99) by Marvel Comics

Amazon's selling lots of graphic novels in their Kindle Store from D.C. Comics, so it's a nice treat when there's also something available from Marvel Comics. This month they've discounted a 136-page collection of the first six issues of Cable & Deadpool. (At $3.99, that's just 66 cents per issue!) I haven't read this comic book, but I have to admit that I was intrigued by the description of the heroes href="http://en.wikipedia.org/wiki/Cable_and_Deadpool"> on Wikipedia. Cable "is the time-traveling son of Cyclops and Madelyne Pryor (a clone of Jean Grey)," and his partner Deadpool is literally insane, "a talkative mercenary for hire known as the 'Merc with a Mouth'… " Amazon distilled their debut collection into one tongue-in-cheek question: "Can two grown men armed to the teeth with deadly genetic weaponry live together without driving each other crazy?!"

Remember: You can always find all of Amazon's discounted ebooks at tinyurl.com/399books