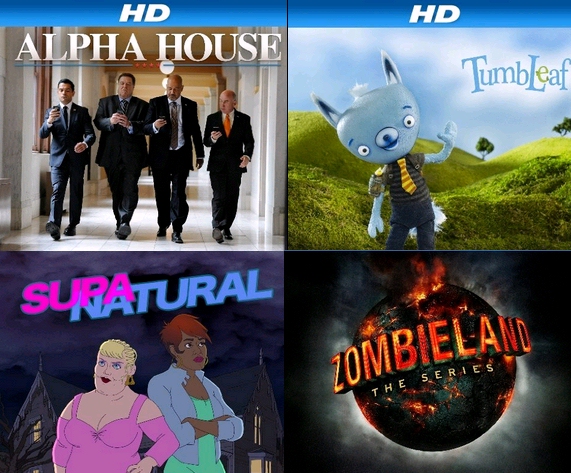 Amazon's been offering videos through an online store that you can watch on your Kindle Fire (or in a web browser, or even in an Amazon video app). The service launched in 2006, but Friday Amazon took a big step in a new direction. They released 14 new TV shows which were all created
by
Amazon. The first episode of each show is available for free in the Kindle Fire's video store, and online at a special "Amazon Originals" web site.
To watch the shows online, just point your browser to tinyurl.com/WatchAmazonTV
"You decide which shows become a series," Amazon promises on their web site. There's eight different original comedies, including one from the Onion News Network, plus an intriguing new comedy called Browsers, created by David Javerbaum, a writer for Jon Stewart's The Daily Show. His show follows a group of interns at a daily news show called The Daily Gush, and it's directed by Don Scardino, who also directs another popular TV show that's set behind-the-scenes at a comedy show: 30 Rock. I'm impressed that for the show, Amazon got an actress I've actually heard of — Bebe Neuwirth — and there's even some hip songs scattered throughout Browsers episodes. (The show's trailer describes it as a "streaming workplace comedy musical".)
There's also a new comedy starring John Goodman, and written by Garry Trudeau, the creator of the Doonesbury comic strip. It's called Alpha House, and it follows four Senators in Washington D.C. who all end up living together in the same rented house. A disclaimer in front of the first episode warns that it contains graphic language and content that "may not be suitable for all audiences," but the photography is really good, and I laughed out loud at John Goodman's first scene, where he wakes up one of his roommates — played by Bill Murray — to ask him about the police cars and television news cameras that are swarming outside their apartment. "Hey Vern, were you by any chance scheduled to turn yourself in to the Department of Justice today?" Goodman asks — and the oversleeping Senator responds with a long stream of anguished profanities…
Amazon's original TV shows also include two new animated series. Dark Minions is written by two actors from The Big Bang Theory — Kevin Sussman and John Ross Bowie — and it's a comedy about two slackers who just happen to work on an intergalactic warship. (The show's tagline is "Rules, reports, a Galactic Overlord… just another day at the office.") And another animated original show, Supanatural, follows "two outspoken divas who are humanity's last line of defense against the supernatural, when they're not working at the mall," according to the description at Amazon. It's co-produced by Kristen Schaal, a commentator on The Daily Show, and a quote from the first episode suggests it'll be delivering some very unusual plots. ("It's not just an ancient doomsday artifact, it's a hater. That's why it must be destroyed.")
There's a total of eight new comedies, including one set in Silicon Valley, where according to ambitious app developer, "investors are buying napkin sketches from high school drop-outs". (I like that Amazon's creating a show that's about new technologies — or at least, the people who try to build them, with a preview that teased "These aren't alpha males, they're betas…the little guy with the big idea.") There's also another comedy which follows the lives of teachers with a very clever title — Those That Can't. And believe it or not, the last comedy is a continuation of the 2009 movie Zombieland, which Wikipedia points out was America's top-grossing zombie comedy of all-time.
Amazon's also released six different TV shows for children, most of which seem to be animated. But some of them seem use Pixar-style computer animation, like Tumbleleaf which follows the magical life of a character named Fig the Fox. I have to admit I was intrigued by Positively Ozitively, which promises new adventures in the land of Oz. And One of the creators of Blue's Clues has created a new show for Amazon called Creative Galaxy, while another Blues Clues creator teamed up with a producer from Arthur and Curious George to create an educational mystery show called Sara Solves It!
There's just two live-action childrens show — Annebots — about a little girl who builds three robots in the back of her dad's junk yard, in a show that "aims to introduce kids to science and technology in a fun, new way." But there's also a new one from the Jim Henson Company which is using muppet-like puppets, called Teeny Tiny Dogs. It's preview is fascinating, promising that the show taps into the latest research on educating children, to create a show teaching the essential life skills for happiness. Its first episode is 12 minutes long, offering a "work in progress" glimpse at what the series would look like, mixing footage of puppets with some animated place-holders for what the final scenes will eventually look like. But it's really fun to see their puppet doing all the things that real dogs do, and the overall tone of the show looks very sweet.
So now besides Kindle ebooks, Amazon's also offering you TV shows!