"Black Friday isn't until the day after Thanksgiving," Amazon explains on
a special web page,
"but since you're here already…we got the deals going a little early!
"We're counting down to Black Friday Deals Week with, yes, even more deals, all day, every day. Black Friday sales, Amazon's best deals–you'll find them right here."
I've been hoping that Amazon will announce a discount on the Kindle HD or the Kindle Paperwhite on Black Friday, but there's already some other great deals that are available now. For a shortcut to their special page, point your web browser to http://tinyurl.com/AdvanceBlackFriday . "The deals destination will feature a Deal of the Day, along with limited-time, doorbuster-style Lightning Deals," Amazon explains in a press release, "and other huge savings on the hottest electronics, toys, clothing and more, now through Black Friday weekend."
So what exactly is Amazon giving away? There's laptops, cameras, and plasma (and LED) TVs. Here's some of the specific details that Amazon's released about deals they'll have this November.
– up to 60% off on popular TV series, including the first two season of The Walking Dead
– up to 60% off on children's books (including Disney Bedtime Favorites)
– up to 50% off on winter clothing (including accessories and outerwear)
– discounts on both men's and women's watches
– a special sale on the Xbox 360 (250 gigabytes, with Kinect)
They'll also be discounting expensive consumer electronics, including the Panasonic Plasma and LED television sets, and the Samsung Premium Ultrabook (series 9). In fact, Amazon's vice president of Consumer Electronics specifically promised that for the next 21 days, their page would be featuring "a large selection of the most anticipated products of the season, all for a great price." But if you visit the page today, Amazon will give you a peek of the "lightning deals" which are coming up later today. If you move fast, you'll be able to get a great price on a Canon camera, an HP Pavillion laptop, and a giant 72% discount on a paper shredder.
To make it easier to find gifts, Amazon's even created their own "curated" list of the top-rated and newest items available this shopping season. That's a screenshot of its logo at the top of this post.
And yes, their newest Kindles are both featured prominently…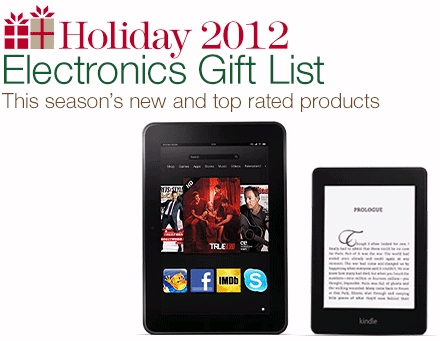 Check out Amazon's special "early Black Friday" page at http://tinyurl.com/AdvanceBlackFriday