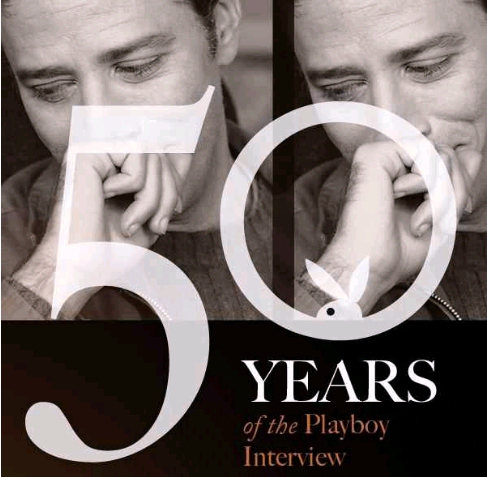 Playboy magazine is re-publishing their interview
with a young Jon Stewart
I was surprised by the big reaction last week to my post about political ebooks for the Kindle. But maybe it's just because everyone loves a free ebook — so here's another one I discovered for the Kindle Fire from the University of Chicago. They give away
one free ebook each month,
and this time it's a fascinating look at America's historic debates between presidential candidates, by a man "who was there at the creation of the modern political debate." And I've also found several other fun (and cheap) ebooks on politics that you can download for your Kindle!
Some of the best political content for the Kindle isn't listed as an ebook in Amazon's Kindle Store — it's being delivered as a Kindle Single! Six weeks ago I reported on Playboy magazine, and their efforts to convert their best interviews into Kindle Singles to celebrate the 50th anniversary of the magazine's first interview with Miles Davis. Since then they've uploaded 32 of their 50 best interviews, including some fascinating conversations with everyone from Jon Stewart and Tina Fey to Ayn Rand and even Fidel Castro. There's a famous interview with Betty Friedan — one of the first feminists — and counter-culture icons like Bob Dylan and Timothy Leary, as well as economist Milton Friedman and cyclist Lance Armstrong. Best of all, you can read the complete text of each interview for just 99 cents in a special anniversary edition. (To browser the complete selection, just point your browser to this special shortcut – tinyurl.com/PlayboyEbooks .)
The free ebook from the Univeristy of Chicago is called Inside the Presidential Debates: Their Improbable Past and Promising Future, and it's written by a real insider in both politics and broadcasting. President Kennedy appointed Newton N. Minow to be one of seven FCC commissioners back in 1961, and he co-authored this book with Craig L. LaMay, an associate professor of journalism at Northwestern University's Medill School of Journalism. "The riveting first-person stories he and Craig LaMay tell of debates in one election after another take us to the heart of American political life," gushed Judy Woodruff in a review of the book, saying that ultimately their insider accounts "argue for a continued central role for debates in our electoral process. Their book is must reading for anyone who wants to understand how to ensure that comes about."
There's a humorous footnote. Minow is also famous for complaining in 1961 that a day's worth of TV programming is simply a "vast wasteland" — a phrase that's still quoted today, according to Wikipedia. This provoked a humorous response from Sherwood Schwartz, a TV producer who at the time was creating the show Gilligan's Island. The classic situation comedy followed seven silly castaways who were shipwrecked on a deserted island — and in honor of the FCC commissioner, he nicknamed their boat the S. S. Minnow.
This book isn't in the Kindle Store, but it's still possible to upload it onto your Kindle Fire. For a shortcut to their web page, go to tinyurl.com/FreeDebateEbook. Enter your e-mail address, and they'll send you a link where you can download a version to read on the Bluefire or Aldiko reading apps. And remember, you can also use your Kindle Fire to watch episodes of Gilligan's Island in Minow's honor — and they're also available online through Amazon's Instant Video web page. (They're all free if you're a subscriber to Amazon Prime.)