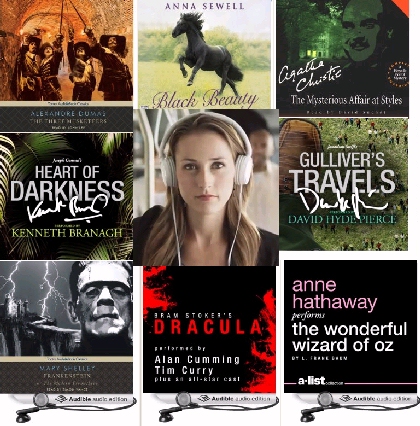 Last week I wrote about a new audiobook feature that Amazon introduced, making it easier to switch from the
text
version of an ebook to its professionally-narrated
audiobook
version. But in the same announcement, Amazon also revealed a new feature that's available in its new versions of the Kindle Fire tablet. "Immersion Reading" promises "evolutionary multisensory reading experience that intensifies the power of great stories and helps readers retain more of what they read," Amazon explains
in a press release.
Translation: you'll be able to listen to a professionally-narrated audiobook
at the same time that you're also reading along with the text yourself!
"Immersion Reading on the new Kindle Fire family sets a new standard for deep reading," Amazon's CEO explained in a press release, "by engaging the eye and the ear simultaneously with beautifully narrated audiobooks." I was skeptical about audiobooks, until I heard some of the beautiful voices that the audibooks were using for reading the text. And "Immersion Reading" is now already available for nearly 15,000 different Kindle ebook/audiobook combinations, Amazon's announced in their press release, "across a wide array of categories and genres." It's a feature that's exclusively available on the new versions of their Kindle Fire tablets, and Amazon just revealed it in their September 6th press conference.
And Amazon will let you try the feature with 20 free ebook/audiobook combinations of some classic books. They're the same books I wrote about last week — some read by professional actors like Kenneth Branagh, Anne Hathaway, or David Hyde Pierce — at tinyurl.com/FreeKindleAudiobooks . In general if you see an ebook listed in the Kindle Store with "Whispersync for Voice" capabilities, you can also listen to its audiobook version while you follow along with the text for an "Immersion Reading" experience. There's automatic page turns, and Amazon will even highlight the text as its being read, which they believe will offer offer a more compelling experience that helps both new readers and long-time fans of books.
Unfortunately, you need one of the new Kindle Fire tablets to try out this capability. And the big 8.9-inch Kindle Fire HD won't be shipping until November, though you can try it out now on the newest version of Amazon's 7-inch Kindle Fire tablet (which is shipping now, and costs $159). And you can still download the 20 audiobooks that Amazon's giving away to encourage people to try out the new features. Judging by the footage I've seen of the new tablets in action, Amazon's planning on putting a lot more focus onto audiobooks. On the main Home page of the new Kindle Fire HD, Amazon's added a brand new choice to its menu at the top of the screen.
"Audiobooks."


Below is my list of the 20 ebook/audiobook combinations which Amazon's giving away for free "for a limited time." Only 18 of them are listed at tinyurl.com/FreeKindleAudiobooks. The other two free combinations are The Picture of Dorian Gray by Oscar Wilde (narrated by Simon Prebble) and The Moonstone by Wilkie Collins (which T.S. Eliot described as "the first and greatest of English detective novels"). But the 18 ebooks below are all available for free (with a free audiobook narration) at tinyurl.com/FreeKindleAudiobooks
Dracula by Bram Stoker with a list of narrators that includes Tim Curry (As well as Alan Cumming, Simon Vance, Katherine Kellgren, Susan Duerden, John Lee, Graeme Malcolm, Steven Crossley, and James Adams)
The Mysterious Affair at Styles by Agatha Christie (narrated by David Suchet, who played Hercule Perot on public television's Mystery Theatre)
The Sign of the Four, a Sherlock Holmes mystery by Sir Arthur Conan Doyle (narrated by Patrick Tull)
The Wonderful Wizard of Oz (narrated by Anne Hathaway)
Gulliver's Travels (narrated by David Hyde Pierce)
Heart of Darkness by Joseph Conrad (narrated by Kenneth Branagh)
A Tale of Two Cities by Charles Dickens (narrated by Simon Vance)
Moby Dick by Herman Melville (narrated by Frank Muller)
The Three Musketeers by Alexandre Dumas (narrated by John Lee)
The Adventures of Huckleberry Finn (narrated by Elijah Wood)
Frankenstein by Mary Shelley (narrated by Simon Vance)
David Copperfield (narrated by Simon Vance)
The Wind in the Willows (narrated by Shelly Frasier
Black Beauty by Anna Sewell (narrated by Nathaniel Parker)
A Portrait of the Artist as a Young Man (narrated by John Lee)
House of Mirth by Edith Wharton (narrated by Wanda McCaddon)
Moll Flanders by Daniel Defoe (narrated by Davina Porter)
Ethan Frome by Edith Wharton (narrated by Scott Brick)
The Moonstone by Wilkie Collins (narrated by James Langton)
The Picture of Dorian Gray by Oscar Wilde (narrated by Simon Prebble)