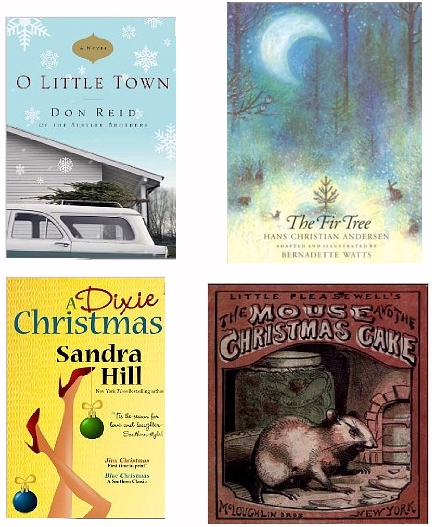 Are you feeling the holiday spirit? Every year I like to stuff my Kindle full of Christmas mp3s and Christmas ebooks. It's become my own personal holiday tradition, a great way to enjoy the special season in an entirely new way. And this year I've discovered some fun
new
Christmas ebooks have also found their way into Amazon's
"free ebook"
section!
O Little Town by Don Reid
Even I've heard of the Statler Brothers, the country band that Kurt Vonnegut once called "America's poets." But now at the age of 66, their lead singer has launched a second career as a writer of sentimental stories about life in a small town. It's Christmas time in his story, and three different families are experiencing both happy and bittersweet moments of friendship and faith. "I live in Staunton, the hometown of the Statler Brothers, and know Don Reid and his wife, Debbie..," reads one review on Amazon. "The last chapters, in which all the main characters attend a Christmas Eve candlelight service where the Pastor delivers a sermon about forgiveness, spoke to my heart… Thank you, Don, for a beautiful Christmas story."

A Dixie Christmas by Sandra Hill
Elvis Presley never meant much to Clayton Jessup the III. But in this book, he's inherited a Memphis hotel called "the Blue Suede Suites," and discovers it's the home to a tribe of Elvis impersonators who've used it to create a living Nativity scene! It's one of two Christmas stories here by romance-writer Sandra Hill that both take place in the South. The other one describes a former NASCAR star trying to win back his ex-wife who somehow ends up in a wild Cajun variety show. They sound like fun stories, and it's currently the #1 free ebook in the entire Kindle Store.

The Mouse and the Christmas Cake (Author Unknown)
"This poem about a mouse that builds a house in a decoration castle on top of a Christmas cake was first published in New York in 1858…" explains one review on Amazon. This ebook even includes five original pictures from the 1858 edition, and another reviewer described it as a "Cute, easy-to-read-aloud poem with old-fashioned illustrations [that] brought a smile." It's a children's poem with just a few pages of text, but I really enjoyed it…
"A pretty story I will tell, of Nib a little Mouse
Who took delight, when none were near, to skip about the house."

The Fir Tree by Hans Christian Andersen
A Charlie Brown Christmas was partly inspired by this fairy tale. Lee Mendelson, who was asked to help write a script for the TV show, remembered the previous Christmas when he'd read this story to his children. It's the story of Christmas from the tree's perspective — a little fir tree that "was not happy, it wished so much to be tall like its companions."
"Sometimes the children would bring a large basket of raspberries or strawberries, wreathed on a straw, and seat themselves near the fir-tree, and say, 'Is it not a pretty little tree?'"
It's fun to peek in on a Christmas in 1844 — even as the tree anticipates a long journey from the woods into a celebrating home. Like many fairy tales, there's a bittersweet ending — but it's a story you'll never forget!