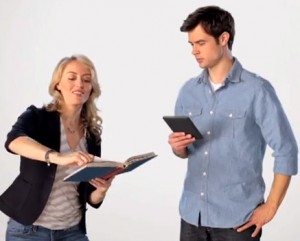 I always get excited when Amazon releases a new commercial for the Kindle. And this time it's just one of several interesting new videos that Amazon is making available online!
Their new Kindle ad probably belongs in a time capsule, because it seems to capture the exact moment when the way we read starts to change. In a breezy conversation, a young blonde woman complains that "I only read real books" to a young man holding a Kindle, which starts a conversation about how the printed book doesn't have any advantages over a Kindle.

"Oh, I'm reading a real book."

"I can read my book in the sun, where there's a lot of glare."

"Well, so can I. See? The screen looks just like a paper book, so it's great for reading in bright sunlight."

"But you can't fold down the page when you want to save your place."

"My Kindle does that for me."

"But you don't get the rewarding feeling of actually folding down the page. [She dramatically reaches her arm forward to bend down the page's corner, and smiles a forced smile] Ahh…

Then there's an awkward pause where the two exchange significant glances, and then woman asks to borrow the man's Kindle.

"Wow. The screen looks amazing."

"Yeah…"
It's the first ad where Amazon has touted the new lower prices of the ad-supported devices at the end of the commercial. ("The all new Kindle," reads the ad's closing shot."From $114.") The commercial will be broadcast for the first time on TV tonight, but this morning Amazon slipped a "sneak preview" link onto the Kindle's official page on Facebook (at Facebook.com/Kindle). Within a few hours, over 1,600 people had clicked the Facebook icon indicated they liked the new ad. (Although one woman in England seemed to be grateful that it was different than an earlier Kindle ad, posting "As long as it hasn't got a dog licking a kindle…")
You can watch the new ad at YouTube.com/Kindle – but it turns out it's not the only new video that Amazon is making available. In a press release this morning, Amazon announced they'd created a new web page called The Backstory. ("Find author interviews," its tagline promises, "and essays, guest reviews, recipes and much, much more.") And to give the new page a big launch, Amazon is featuring five video interviews with authors, including celebrity chef Tom Douglas and Gossip Girl producer John Stephens (as well as authors Joshua Foer, Holly Black and Cassandra Clare.) They're calling the series Author Interviews @ Amazon, and there's many more authors to come. "New author interviews will be announced via the Amazon.com Books Facebook page," the company explained in a press release this morning, "and on Omnivoracious.com, the Amazon.com Books blog."
Remember, you can subscribe to the Omnivoracious blog on your Kindle for free! And to make it easier, I've created a special URL — just point your web browser to tinyurl.com/Omnivoracious.
Amazon will even let you post questions for the authors on the Facebook page, or e-mail your questions to authorinterviews@amazon.com. (The final interviews will also be available on the book's "detail" page at Amazon.com.) "We're extremely lucky to have fascinating and talented authors gracing our hallways here at Amazon and taking time to chat with us," Amazon's Managing Editor of books said this morning.
"We love these conversations so much that we wanted to share them with our customers."
New Kindle ad – youtube.com/Kindle
Omnivoracious Blog – tinyurl.com/Omnivoracious
Author Interviews – amazon.com/thebackstory