I love Amazon's Kindle ads. (I'll be watching TV — muting every single commercial with my remote — when I'll suddenly shout out "Kindle!") It's exciting to see digital readers making the "big time" of network television. But I've always been really curious about what kind of message they're sending…
I always wonder if there's a clue hidden in the ebooks that Amazon's displaying on the Kindle's screen. Or if it's just Amazon's way of recommending some good books…


"The Book Lives On"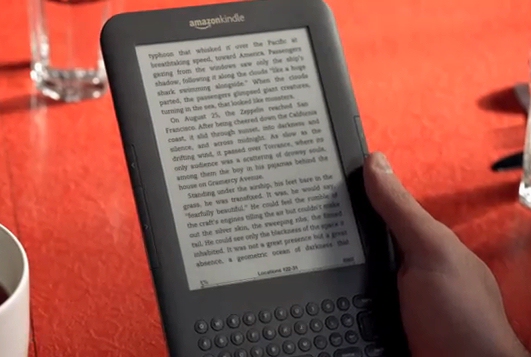 In this ad, good-looking young people read their Kindles in the sunlight — in a park, a restaurant — and enjoy lepaing in the sun and walking on fences. But just two seconds in — as one thoughtful youngster strokes his chin — there's a shot of the Kindle he's holding over the restaurant's red tablecloth. And what ebook is it displaying?
"Unbroken" by Laura Hillenbrand (subtitled "a World War II story of survival, resilience, and redemption.") It's only her second book — her first book was Seabiscuit, written 10 years ago, which became the basis for the 2003 film starring Tobey MacQuire. But Unbroken has already received 713 five-star reviews on Amazon.com for its inspiring story of Louis Zamperini, an American Olympic distance runner who joined the Air Force only to become a prisoner of war. The book opens with a description of the day when, as a young boy, he saw an enormous German Zeppelin flying down the California coast.

…typhoon that whisked it over the Pacific at breathtaking speed, toward America. Passengers gazing from the windows saw only the ship's shadow, following it along the clouds "like a huge shark swimming alongside." When the clouds parted, the passengers glimpsed giant creatures, turning in the sea, that looked like monsters.

On August 25, the Zeppelin reached San Francisco. After being cheered down the California coast, it slid through sunset, into darkness and silence, and across midnight. As slow as the drifting wind, it passed over Torrance, where its only audience was a scattering of drowsy souls, among them the boy in his pajamas behind the house on Gramercy Avenue.

Standing under the airship, his feet bare in the grass, he was transfixed. It was, he would say, "fearfully beautiful." He could feel the rumble of the craft's engines tilling the air but couldn't make out the silver skin, the sweeping ribs, the finned tail. He could see only the blackness of the space it inhabited. It was not a great presence but a great absence, a geometric ocean of darkness that…


The darkness "seemed to swallow heaven itself," the next page continues. And that's the kind of story that's waiting for you, Amazon seems to be saying, if you buy yourself a Kindle!


Kindle Zest Ad

This Kindle is everywhere — on a bus, in a jewelry drawer, in your back pocket, getting licked by a dog. But as Cheerios splash across the screen of a Kindle, they're covering the page of another ebook — this time,
Mini Shopaholic by Sophie Kinsella. It's the sixth book in a series of funny books about life as a shopaholic — this one was just released in September — and in this one she ponders the next generation of shoppers,
starting with her two-year-old daughter Minnie.
The Kindle in the ad has turned to a poignant page where, as her daughter leaves a card for Santa in a wishing well, the narrator remembers leaving her own greedy Christmas letters.

…long and involved, with illustrations and pictures cut out of catalogs, just in case he got confused.

A pair of pink-faced girls of about ten, all giggly and whispery, are posting their wishes, and just the sight of them gives me a rush of nostalgia. It seems wrong not to join in. I might jinx it or something.

Dear Father Christmas, I find myself writing on a card. It's Becky here again. I pause and think for a bit, and then quickly scribble down a few things.

I mean, only about three. I'm not greedy or anything.

Minnie is drawing earnestly all over her card and has got felt-tip on her hands and her nose.

"I'm sure Father Christmas will understand what you mean," I say gently, taking it from her….


By the way, you can download the music from this ad for free from Amazon.com as part of a limited-time promotional offer. It's the song "Lovers' Cravings" by Bibio.


"What If You Switch?"

Interestingly, a different part of the same book appears in another Kindle ad. It's the one where a British narrator tells a story about reading ebooks with different phone apps. ("Once upon a time, a woman was reading a Kindle book on her Android phone… One day she decided to switch to an iPhone. Luckily, she'd been buying Kindle books, so she didn't need to buy her library all over again. She lived happily ever after.") On her Android phone, she's reading page 237.

…and I could have told her exactly where she went wrong with that last boyfriend of hers. (Because I totally disagree with that columnist in Heat magazine — the split was not inevitable.) And then we could have gone shopping and been snapped by paparazzi and started a whole new trend with scarves or something…

But ironically, when she switches to her iPhone, she's actually reading an entirely different book. It's one of the all-time best-selling ebooks on the Kindle — The Girl with the Dragon Tattoo.

…don't know anything about this particular matter, but I do know beyond and doubt that in other situations Wennerstrom has acted dishonestly. The Wennerstrom case has seriously affected Mikael Bloomkvist's life, and I have an interest in discerning whether there's anything in your speculation."

The conversation had taken an unexpected turn, and Armansky was instantly on the alert. What Frode was asking was for Milton Security to poke around in a case that had…"



Kindle Park Ad

There's a close-up of the Kindle's screen, held in front of the stones and grass by a shimmery green stream. The camera rotates to show it's being held by a woman (with her blonde hair pulled back) sitting next to a curvy stone bridge, and as the camera rises to the sky, she seems calmly engrossed in her Kindle. But the book that's she's reading includes harrowing scenes of racism in American in the 1950s. It's Ralph Ellison's Invisible Man.
The page she's reading in the park is about the eviction of an elderly black couple.

…false hair, a curling iron, a card with silvery letters against a background of dark red velvet, reading "God Bless Our Home"; and scattered across the top of a chiffonier were nuggets of High John the Conqueror, the lucky stone; and as I watched the white men put down a basket in which I saw a whiskey bottle filled with rock candy and camphor a small Ethiopian flag, a faded tintype of Abraham Lincoln, and the smiling image of a Hollywood star torn from a magazine. And on a pillow several badly cracked pieces of delicate china, a commemorative plate celebrating the St. Louis World's Fair … I stood in a kind of daze looking at an old folded lace fan studded with jet and mother-of-pearl.

The crowd surged as the white men came back, knocking over a drawer that spilled its contents in the snow at my feet. I stooped and started replacing the articles: a bent Masonic emblem, a set of tarnished cuff links, three brass rings, a dime pierced with a nail hole so as to be worn about the ankle on a string for luck, an ornate greeting card with the message "Grandma, I love…



That Kindle at the Beach
This was the first Kindle ad, where the camera gradually pulls back to reveal that the Kindle at the beach is being read by a short-haired woman in a red-and-orange skirt, sitting silently next to a young man who's also reading his Kindle. ("Man, that couple must hate each other," someone once joked.)
I actually tracked down the author of the ebook she's reading — Amy Bloom, who's both a novelist and a professor at Yale University. She was once nominated for the National Book Award, and the story that appears on the Kindle was actually written in 1993. It was part of a new collection of her stories that was released in 2010, called Where the God of Love Hangs Out. And it's probably the saddest pages to ever appear in a Kindle ad.
It's the story of a 19-year-old boy who has a sexual encounter with his stepmother the day after his father's funeral, told from the perspective of the grief-stricken widow. She struggles to find a way to make things right again – but first she must confront the fact that her son wants to continue the relationship.
"No, honey…"

I reached across the table but he shrugged me off, grabbing my keys and heading out the door. I sat for a long time, sipping, watching the sunlight move around the kitchen. When it was almost five, I took the keys from [her husband] Lionel's side of the dresser and drove his van to soccer camp. [Her other, younger son] Buster felt like being quiet, so we just held hands and listened to the radio. I offered to take him to Burger King, hoping the automated monkeys and video games would be a good substitute for a fully present and competent mother. He was happy and we killed an hour and a half there. Three hours to bedtime.

We watched some TV, sitting on the couch, his feet in my lap. Every few minutes, I'd look at the clock on the mantel and then promise myself I wouldn't look until the next commercial. Every time I started to move, I'd get tears in my eyes, so I concentrated on sitting very still, waiting for time to pass. Finally, I got Buster through his…


Bloom has practiced psychotherapy, and she's also published her psychologically-insightful short stories in The New Yorker. (When I asked her if she thought that couple in the Kindle ad really hated each other, she replied "Well, or it's comfortable silences. Other people's marriages are hard to judge…") But she said that she hadn't even known about her story appearing in the Kindle ad until shortly before our interview. After she'd watched the ad on YouTube, she just went on with the rest of her day.
"I had a deadline. I was working on something, and I went back to work…"
But I'll still always remember how excited I was to talk to her, since for me she was the ultimate celebrity by proxy — the author of the page in the ebook on that Kindle in that Kindle ad!