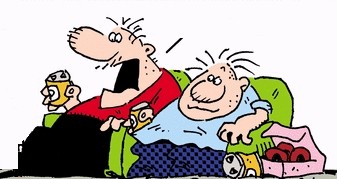 In October, the Kindle actually appeared in a newspaper comic strip — the one-panel classic "Ziggy". (A bewildered Ziggy complains that his Kindle is now receiving spam advertisements — from the public library.) It was a milestone — of sorts. But it turns out that the Kindle has also appeared in several other newspaper comic strips.
In fact, just four weeks ago, the Kindle turned up in "Frank and Ernest". The pair is watching Hawaii Five-O, but since it's the new version, detective McGarrett's trademark line has been changed from "Book 'em, Danno," to… "Kindle 'em, Danno."
And the Kindle actually appeared for a whole week in the comic strip "Crankshaft." (At first the curmudgeonly bus driver misunderstands the name Kindle, and says "You shouldn't have wasted your money… I still haven't burned all the pine cones yet.") But in touching a moment, his girlfriend explains that he can finally read all the Tarzan books that he never got to read as a kid. And apparently his Kindle has a magical feature that's apparently available only in the comic book universe. His girlfriend explains that "If you press here while you're reading your Tarzan books, it emits a musty book smell."
There is one mistake in the comic strip. The series end with Crankshaft announcing later that he's downloading 60 years worth of Reader's Digest. Then he says "Don't wait up" — and heads into the bathroom.
In real life, it's not possible to download back issues of Reader's Digest, as far as I can tell (though it is possible to subscribe to the magazine). But one part of the comic strip is gloriously true. Not only can you read the original Tarzan books on your Kindle — every single one of them is absolutely free.
Tarzan of the Apes
Return of Tarzan
`Beasts of Tarzan
Tarzan the Terrible
Son of Tarzan
Tarzan and the Jewels of Opar
Jungle Tales of Tarzan
Bloggers were impressed that even the cranky bus driver was enjoying his Kindle. "It's mainstream now for sure," wrote a blogger at BookChase — though he immediately received a follow-up comment that wondered whether the bus driver had really overcome his technophobia.
"And then he discovers that the battery occasionally needs to be recharged, and that'll be the end of that."