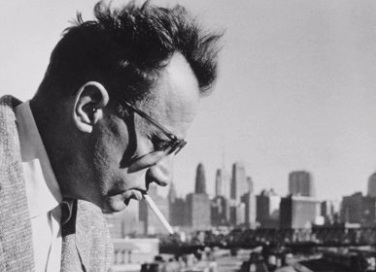 Ernest Hemingway called him "one of the two best authors in America" — and yet his greatest novel isn't available on the Kindle. Nelson Algren wrote
The Man With the Golden Arm
, an unforgettable look at Chicago and its lowlifes, in 1950, and it won a National Book Award. But apparently, there's more to the story —
according to The Chicago Reader
.

"Her name was Margo. She was a 22-year-old addict hooking for her heroin, and when Nelson Algren met her, in the mid-40s in Chicago, while he was working on The Man With the Golden Arm, he violated the immortal principles he'd set down in A Walk on the Wild Side: "Never play cards with a man called Doc. Never eat at a place called Mom's. Never sleep with a woman whose troubles are worse than your own." Algren took Margo in, putting her up in his Wicker Park digs, and eventually got her clean. Years later, when she wrote him a note letting him know she was engaged to a guy she wanted him to meet, he was devastated. His feelings for her had become so strong and complicated that when he tried to put her into the center of a novel he couldn't finish it.

"About 300 pages wound up in the Algren archives at Ohio State University, and in edited form they make their first public appearance as "Entrapment," from Entrapment and Other Writings, a new collection of previously unpublished work by Algren edited by Brooke Horvath and Dan Simon for Seven Stories Press."

But there's more than just an excerpt from the lost novel, according to the book's introduction. "Some of Algren's very best writing never appeared anywhere and was left finished but completely unpublished."
Other stories appeared only once, in long-ago magazines, until they were finally gathered for this special collection on what would've been Algren's 100th birthday. The hardcover edition was nearly 300 pages long, and "Every piece in Entrapment and Other Writings is irreplaceable." If you order the sample from Amazon, you'll get the editor's introduction, but no actual text by Algren himself. But fortunately, The Chicago Reader has put a stunning excerpt online.
My personal favorite Algren book was always The Last Carousel, another dazzling collection of short works from throughout his career, which he'd published in 1973. At the age of 64, the author had hand-picked each story himself — and towards the end, near the paperback's 500th page, he'd slyly included an excerpt from this unfinished novel, Entrapment. There was also a funny story about his affair with Simone de Beauvoir, a sympathetic examination of the baseball players in the Chicago "Black Sox" scandal of 1919, and his perspective on watching his great novel, The Man With the Golden Arm, being turned into a Hollywood melodrama that starred Frank Sinatra.
Unfortunately The Last Carousel also isn't available on the Kindle. But last December I discovered that you can still read one of its most touching stories online. On December 4, 1949, the Chicago Sunday Tribune published "Merry Christmas, Mr. Mark," a story Algren wrote at the height of career, at the same time as his award-winning novel. The 40-year-old novelist remembered being a young newsboy in the 1920s, braving the snows to sell The Saturday Evening Blade at an intersection by the cemetery — and how they'd tried to swindle their customers.
Nelson Algren always remembered the forgotten people — from jockeys and boxers to drifters and gamblers. And now this new book lets us remember Nelson Algren…