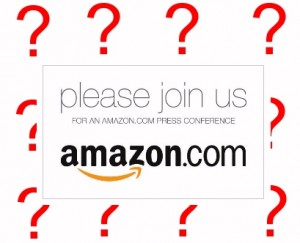 I love my Kindle — but there's now of fascinating rumors about
new
ebook-reading devices that will be coming from Amazon. We've already heard how Apple might be building a
watch
with an iPhone-like interface. But now there's reports that seem to confirm that Amazon's building its very own smartphone!
In December Amazon had already placed orders for 5 million Kindle-branded smartphones, according to one technology blog. It could be as cheap as $100, and no more than $200, according to the report — so you could get a Kindle-branded phone for about the cost of one of Amazon's Kindle Fire tablets. And it's being developed by the same people who have been producing Amazon's Kindle e-readers (and their Kindle Fire tablets). That's the good news — but unfortunately, Amazon "may not be able to release its first smartphone in the second quarter of 2013 as originally scheduled" (according to sources within the supply chain for Amazon's electronic parts).
Right now they're conducting "engineering verification testing" to work out some issues — which at least one hardware blog concludes must be related to porting the Kindle operating system to a phone. The theory is that Amazon is adapting the same version of the Android operating system that they've been using with their Kindle Fire tablets. Amazon's smartphone is one of those in-demand products which has never actually been released. "The device was expected to be among the latest batch of Kindle Fire tablet refreshes last fall," notes the hardware blog, "but that never happened." In fact, Amazon may be less worried about Apple, and more about Microsoft. The blogger reports the general presumption at the time was that Amazon "was waiting to tackle Microsoft's own Surface-branded offering until the first report of delays began to surface."
Here's my favorite part of his story. He notes that Amazon has never, ever actually said that they're building a smartphone — "but it hasn't denied its existence either." In fact, on a recent interview on the Charlie Rose talk show, Amazon's CEO was asked point-blank whether the rumors were true, and a he gave a less than convincing denial. "I agree that there are a bunch of rumors that we might do a phone," Jeff Bezos replied.
"You'll just have to wait and see."