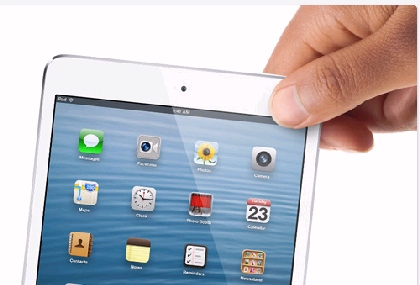 Ouch! I know Amazon wants to beat Apple in "the war of the tablets". But today Amazon launched a surprisingly aggressive attack against Apple's newest tablet computer, the iPad Mini. They fired the first shot last Thursday during a conference call announcing their earnings. But today they continued their attack using the front page of Amazon.com!
Apple had announced their new "iPad Mini" just six days ago, priced at $329. It competes directly with Amazon's Kindle Fire tablets, though its color touchscreen has a lower density of pixels (offering just 163 pixels for every inch of screenspace). Even the original Kindle Fire — now priced at $159 — has 169 pixels per inch. And Amazon's new Kindle HD (priced at $199) now offers 216 pixels per inch.
Apple's always had a reputation for producing good-but-expensive products. So apparently, Amazon wanted to make sure that everyone noticed that Amazon's cheaper devices were actually offering more pixels per inch. Somewhere in Seattle, someone came up with a publicity stunt that was sure to get the attention of technology bloggers everywhere. The first thing you see today at the top of Amazon.com is a quote from the technology site Gizmodo.
"…your [Apple's] 7.9 inch tablet has far fewer pixels than the competing 7-inch tablets! You're cramming a worse screen in there, charging more, and accusing others of compromise? Ballsy."
Amazon seems anxious to position themselves as the better-and-cheaper option, especially with the Christmas shopping season coming up. (Ironically, Gizmodo.com went offline this afternoon, possibly overwhelmed by all the additional traffic they were now getting from Amazon.com!) Just two days after Apple had launched their newest product last week, a spokesperson for Amazon had also contacted the AllThingsD blog, and bragged that the sales for the Kindle Fire HD had actually increased the day after Apple had announced the iPad Mini. In fact, Amazon sold more Kindle Fire HDs on that day than on any other day since they'd launched the product. Not only that, but Amazon had actually sold three times as many as they'd sold just the week before!
It's possible that there was a pent-up demand for tablets on that one day. I'm guessing that a lot of shoppers had postponed their purchase just to see what kind of device Apple was going to announce. But apparently a lot of them then decided to go with Amazon's device, because it was much cheaper and offered a higher density of pixels. And now Amazon's making sure everyone's hearing about the difference.
I wanted to ask a hardcore Apple fan what they thought of Amazon's argument, so I contacted my friend Steve. (He's been an Apple enthusiast for years, and once wrote a blog post where he jokingly described himself as a freedom-hating Apple fanboy.) "It's a fair hit…" Steve conceded. "I get that it's an improvement over the original iPad, in that it's the same resolution but smaller so the pixel density is higher. But the pixel density is still lower than anything else they sell — or, other than the orignal iPad, anything else that they've ever sold!"
My friend Steve also pointed out that the iPad Mini is also going to have to compete with the Kindle, at least in some ways, "and Kindle has this nice, paperlink e-ink surface. As a backlit device, we really need the smoother, crisper screen to be an easy-on-the-eyes experience, and the iPad Mini really doesn't deliver on that." Plus, even for a die-hard Apple fan, it's hard to get past the fact that Apple's priced their newest device at least $130 higher than the Kindle Fire tablets that Amazon's aiming at the lower end of the market.
"To market the iPad Mini as a high-end device, I think it really needs more screen resolution."