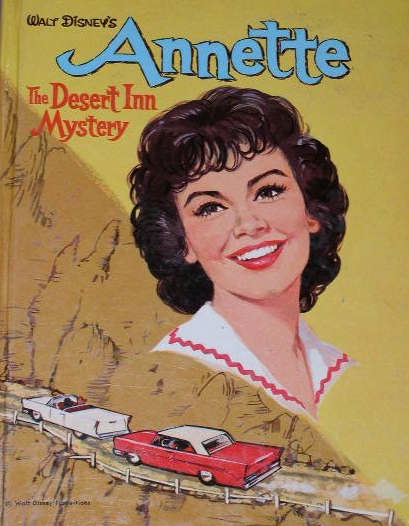 Another celebrity died on Monday — Annette Funicello — though if you're past a certain age, you may not remember her. As a teenager in the 1950s, she became famous on Walt Disney's
Mickey Mouse Club
, and in the 1960s found new popularity in drive-in comedies like
Beach Blanket Bingo
. By the 1970s she was probably best-known as the spokesperson for Skippy Peanut Butter, but she still achieved the status of an icon just by symbolizing a more innocent time. And there's two ways that she'll always be connected in my mind to the Kindle — and the world of books.
Annette released a fun and inspiring biography in 1994 — called A Dream Is a Wish Your Heart Makes. She describes the picture-perfect life that she'd had growing up, working with Walt Disney himself, and getting to meet all of her favorite teen idols. She actually spent her 16th birthday with the actor who played Zorro, who carved a big 'Z' in the frosting of her birthday cake! There's some funny stories about her family and her grown-up life too, but the sweet surprises turned dramatic when she was diagnosed with multiple sclerosis.
As big as the shock was, "the outpouring of love and support was just overwhelming." Annette said later she was also gratified to hear from others with the same condition that they'd taken strength from the way she'd come forward about her illness. "They're not embarrassed to use their canes or to be in a wheelchair because if I can do it, they feel they can too," she says — building up to the big quote that always brings a tear to my eye.
"Life doesn't have to be perfect to be wonderful."
Her biography was never released as a Kindle ebook, but it's available as an audiobook, which in some ways is even better. It's remarkable to hear the familiar voice of Annette Funicello coming out of my Kindle and telling the story of her life — especially one day after she died. This audiobook even has some background music, so it's very well produced. But Annette actually appeared as part of another strange series of books — nearly 40 years before!
Yes, there was the time in the history of publishing when authors cranked out entire novels — often close to 200 pages long — about movie stars, like Shirley Temple, Gregory Peck, and even Lucille Ball. These were fictional stories, usually mysteries, where one of the characters actually was the movie star. (Take a look at some of these titles…)
Betty Grable and the House of Cobwebs
Ginger Rogers and the Riddle of the Scarlet Cloak
Gregory Peck and the Red Box Enigma
Judy Garland and the Hoodoo Costume
Dorothy Lamour and the Haunted Lighthouse
Shirley Temple and the Spirit of Dragonwood
Shirley Temple and the Screaming Specter
Lucy and the Madcap Mystery

Later, there were even books based on TV shows, like The Munsters: The Great Camera Caper and The Monkees: Who's Got the Button? There was even a comic novel based on Gilligan's Island. But I think Annette Funicello probably holds the record for appearing in the most celebrity mysteries — and each one was set in an intriguing location like the Arizona desert, the California mountains, or a glamorous estate.
Annette: Sierra Summer
Annette: Desert Inn Mystery
Annette: Mystery of Moonstone Bay
Annette: Mystery at Smuggler's Cove
Annette: Mystery of Medicine Wheel
The plots are predictable. (Annette has a friend whose parents will lose their hotel unless Annette can discover the legendary lost treasure — or something like that.) "Each book capitalized on the star's popularity by featuring a colorful picture of her face on the front cover," one
collector remembers, "along with eight silhouettes of Annette on the inside covers." The books were published between 1960 and 1965, and I like how the article notes that Annette "played her part in a forgotten era in American book publishing."
Life doesn't have to be perfect to be wonderful…